Batoul Auf: One Year Work Anniversary!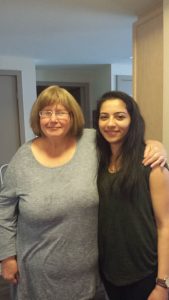 Quality in human services has a direct correlation to quality humans delivering those services, and experienced, committed staff who stay in their jobs over the long term are critical to a strong workplace culture. They serve as mentors to new staff, and establish a consistent trusted presence with individuals supported by LiveWorkPlay and their families. We are now sharing a bit more about our staff team on their annual workplace anniversaries.
Join us in celebrating a May 23rd first year work anniversary for Batoul Auf!
What is your favorite memory from your first year?
I can't decide on a single memory. This past year with LiveWorkPlay has had a lot of memorable moments! I love being a part of the journey of the individuals I am supporting and growing with them, these experiences will always hold a very dear place in my heart.
How did you first get involved with LiveWorkPlay?
I was part of the LiveWorkPlay volunteer team for four years before joining the staff team. I was new to Ottawa and LiveWorkPlay played a huge role in introducing me to the city while allowing me to meet the most amazing and loving people anyone could hope to meet.
What are you looking forward to in the future at LiveWorkPlay?
I am looking forward to being a highly contributing member of the team, and to help share and enforce the wonderful values of LiveWorkPlay.  I'm looking forward to sharing more memorable moments with all the staff and members!
We asked some of Batoul's colleagues and the people she supports for the inside scoop!
She is very modest and working really hard just seems routine for her.
Batoul is really calm under pressure, sometimes it's hard to tell she's dealing with a serious problem because she keeps her cool so well.
Well she was in a challenging program in university and working a lot of hours at the same time, and she did great at both, so that's pretty impressive isn't it?