About
LiveWorkPlay is a federally incorporated nonprofit and Canada Revenue Agency registered charity 896222775RR0001. The organization provides direct supports and services in the Ottawa area to deliver its mission: helping the community welcome and include people with intellectual disabilities, autistic persons, and individuals with a dual diagnosis to live, work, and play as valued citizens.
LiveWorkPlay has a full-time staff of 30, more than 150 volunteers (including a board of directors democratically elected by a representation of members), and more than 150 employment partners and community partners that help us deliver our mission.
Our main source of funding is the Ontario Ministry of Children, Community, and Social Services (MCCSS), specifically Developmental Services. About 30% of our support comes from donations and related contributions such as fundraising and event sponsorship, as well as direct payments from individuals and families (fee for service).
We have created a video series that helps explain the LiveWorkPlay approach to supporting people with intellectual disabilities and/or autism to enjoy homes of their own, healthy relationships, and included lives in the community. We call it Just Enough Support. These supports are provided within the regulatory context of MCCSS guidelines, including the Quality Assurance Measures.
Just Enough Support is based on seven key principles that guide us in our daily work: honouring personal autonomy, person-centred thinking, assets-based solutions, barrier-busting technology, always building bridges, community-first approaches, and authentic valued roles.
We take a similar approach in delivering our employment supports, but the way we help with employment is strongly influenced by the parameters of the Ontario Disability Support Program (Employment Supports) which funds our efforts with job seekers and employers through a prescriptive fee for service relationship. LiveWorkPlay also provides inclusion workshops to employers looking to diversity their workplace.
A Brief History
LiveWorkPlay was founded in 1995 by the husband and wife team of Keenan Wellar and Julie Kingstone, supported by a small group of individuals with intellectual disabilities, their family members, and various professionals in teaching, social work, and other community services. After two years of planning and preparation, the organization became a full-time operation in 1997, at which time it was known as the Special Needs Network.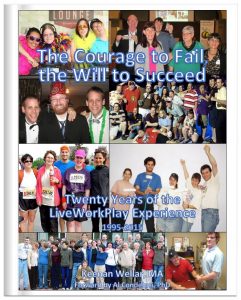 Initially intended mainly as a support and advocacy initiative, Special Needs Network members respectfully but assertively demanded more. The organization had attracted a core of families that did not see a systems future for their children. Designed from the beginning to be an organization that improves by listening, responding, and acting, growth came in a series of small steps over a short period of time: part-time programming for teens and adults grew into a full-time program for adults and a series of exploratory projects in the areas of employment and housing.
We've got a book about our first 20 years, and you can read it online for free!
In 2000 the organization secured a new funding partnership with the Ministry of Community and Social Services (now Ministry of Children, Community and Social Services) and began an identity shift with a change of name to LiveWorkPlay and a focus on community inclusion through direct supports and services. Membership on the Board of Directors was broadened to include a greater diversity of community members, and the staff team grew beyond 5 members for the first time.
In 2008, through interactions with other organizations and networks across Ontario and the world, the LiveWorkPlay community took a serious look at existing practices and determined that "great programs" had become the de facto mission of the organization. While great programs were a laudable achievement, LiveWorkPlay was all about people with intellectual disabilities living an included life in the community, and a programmatic approach was not achieving this objective. Change was needed.
Through internal collaboration and consultation with external leaders like Dr. Al Condeluci, David Hingsburger, Community Living of Upper Ottawa Valley, Community Living St. Marys, People First organizations, David Pitonyak, Bruce Anderson, and others LiveWorkPlay made the decision to phase out its day program and shift its employment supports and social programs to a new community-based model. Key to this strategy would be the ability to engage community volunteers at a scope and scale previously unimagined.
By 2010 the shift had been largely completed, and from that point forward the LiveWorkPlay growth process has always been about refining a community-based approach. In 2011 the LiveWorkPlay membership unanimously endorsed new mission, vision, and values statements that are closely aligned with the United Nations Convention on the Rights of Persons with Disabilities.
The 2011 mission statement "Helping the community welcome people with intellectual disabilities to live, work, and play as valued citizens" was updated in 2019 to include a specific reference to autistic persons (some of whom are not identified with having an intellectual disability) as well as individuals with a dual diagnosis (a mental health issue as well as an intellectual disability and/or autism).
LiveWorkPlay is a culture of continuous improvement. While we take a breath to celebrate progress at the annual Make A Buzz Ottawa anniverary event, and from time to time are honoured by external recognition, we are always learning and growing.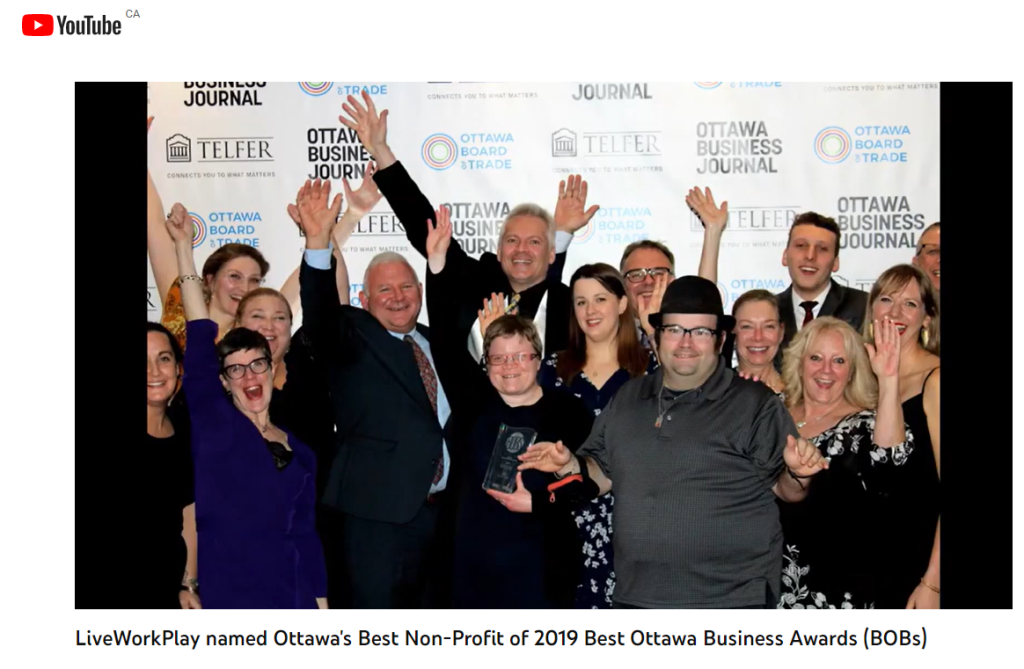 LiveWorkPlay Guiding Statements
VISION: A COMMUNITY WHERE EVERYONE BELONGS
MISSION: HELPING OUR COMMUNITY WELCOME AND INCLUDE PEOPLE WITH INTELLECTUAL DISABILITIES, AUTISTIC PERSONS, AND INDIVIDUALS WITH A DUAL DIAGNOSIS TO LIVE, WORK, AND PLAY AS VALUED CITIZENS.
VALUES
CORE: PEOPLE WITH INTELLECTUAL DISABILITIES ARE VALUABLE CONTRIBUTORS TO THE DIVERSITY OF OUR COMMUNITY AND TO THE HUMAN FAMILY.
LIVE: WITH RESPECT TO HOMES, HEALTH CARE, EDUCATION, PERSONAL DIGNITY, AND PERSONAL PRIVACY, PEOPLE WITH INTELLECTUAL DISABILITIES HAVE THE RIGHT TO THE REMOVAL OF BARRIERS PREVENTING THEM FROM EXPERIENCING THE COMMUNITY ON AN EQUAL BASIS WITH OTHER CITIZENS.
WORK: WITH RESPECT TO PAID WORK AT MINIMUM WAGE OR BETTER, SHORT-TERM UNPAID WORK, AND VOLUNTEER POSITIONS, PEOPLE WITH INTELLECTUAL DISABILITIES HAVE THE RIGHT TO THE REMOVAL OF BARRIERS PREVENTING THEM FROM EXPERIENCING THE COMMUNITY ON AN EQUAL BASIS WITH OTHER CITIZENS.
PLAY: WITH RESPECT TO CULTURAL AND SPIRITUAL LIFE, SPORTS ANDR ECREATION, POLITICAL LIFE, AND THE FULL RANGE OF HUMAN RELATIONSHIPS, PEOPLE WITH INTELLECTUAL DISABILITIES HAVE THE RIGHT TO THE REMOVAL OF BARRIERS PREVENTING THEM FROM EXPERIENCING THE COMMUNITY ON AN EQUAL BASIS WITH OTHER CITIZENS.
Adopted by Unanimous Vote of Members at LiveWorkPlay Annual General Meeting 2011. Mission revised with Unanimous Vote of Members at LiveWorkPlay AGM 2019.
Along with our vision and values, our mission offers powerful guidance as to our perspective on exclusion and our strategy for inclusion. We have clearly situated the barriers (and solutions) to exclusion as residing with the community (not with the person), and our role is not only to help people with intellectual disabilities overcome these barriers, but also – and most importantly – to help the community understand their role in ending exclusion and appreciating people with intellectual disabilities as valuable members of the human family.
In 2018 we put a name to our approach: Just Enough Support. We also developed and elaborated seven principles to help explain it. You can learn more about these in the Just Enough Support video series.