Allison Moores: Ten Year LiveWorkPlay Work Anniversary!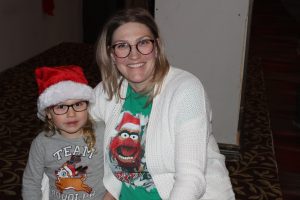 Quality in human services has a direct correlation to quality humans delivering those services, and experienced, committed staff who stay in their jobs over the long term are critical to a strong workplace culture. They serve as mentors to new staff, and establish a consistent trusted presence with individuals supported by LiveWorkPlay and their families.
We continue with our celebration of annual work anniversaries with a big June 1 milestone: ten years for our Support Coordinator Allison Moores!
What is a favorite memory of the past year at LiveWorkPlay?
My favorite memory over the last year at LiveWorkPlay is the generosity and flexibility that members, families and community partners showed our team when our office flooded this fall. 
Without any notice, we were displaced from our headquarters for 5 months.  Members and families (and often their pets!) welcomed us into their homes for meetings without hesitation, community partners offered us the use of their space and facilities, and were able to carry on, for the most part, with business as usual – we even learned a few lessons along the way! For example, it worked so well to meet with members and families at home that we plan to carry on (when it is their preference) doing so as much as possible.
What is a favorite memory of your time at LiveWorkPlay over the years?

Many years ago, when I was a brand new staff member at LiveWorkPlay, I supported a small group of members to travel to Montreal, along with Julie and Keenan. It was probably the most fun that I've ever had in Montreal. For many of the members, it was their first travel experience without their parents, and boy did they live it up!
It was amazing to see people rise to the occasion, managing the challenges of travelling to a large city and adapting to last-minute changes when our train broke down and we had to be shuttled onto a bus to get home. I will never forget sitting with Jalynn and Julie on the bus ride home, hearing about the lives and losses of Jalynn's many family pets. Her storytelling style had everyone on the edge of their seat, there were some sad parts to the story, but mostly we were all laughing so hard we couldn't breathe!
Back in those days most everything we did was in groups. We had fun but everyone was sort of  "stuck" trying to do the same things every day but somehow make it different or interesting. Our support has evolved so much over the years to best fit the needs and wants of the members we serve.  It's really neat to see some of those same people from the Montreal trip are still involved with the organization. I am grateful to have been part of that phase of their lives and now look forward to hearing about the travels and adventures those same people are planning and experiencing for their own future.
What are you looking forward to in the future at LiveWorkPlay?
I am looking forward to seeing how our members and their families will continue to pave the way for a more welcoming and inclusive community. We have come so far in the time that I've been part of LiveWorkPlay – our former day program participants are out lighting the world on fire, and people we are supporting who are coming right out of high school have the expectation of living a life like their siblings or non-disabled peers, and that's a really healthy sign and a positive challenge to the world around us.
I see people working at jobs where they're valued and appreciated, in loving relationships with friends and partners, living in their own home, enjoying hobbies (from axe-throwing to crochet) and the list is endless. I stand in awe of the lives people are living and the resilience they have to face life's challenges head-on. I can't wait to see what they do next.
What do others have to say about Allison?
The main thing is she listens to me and that's why I feel that she is good at supporting me and my family and also she asks really good questions.
Allison has a tough job because it's all about being supportive at the same time as she has to be honest and manage all sorts of difficult boundaries with our members, families, and partners.
She is really interested and passionate about social justice and it's great she chose to devote so much of that to LiveWorkPlay but it's only a part of her desire to see a better world.
Oh man she's just so funny, I think one of her biggest challenges is when she can see where someone is going with a story that is going to be really funny one day, but she's determined to respect the person by hearing them out in the present.