Celebrating 50 Jobs with the Public Service of Canada!
In March of 2018, a joint communique from Anne Marie Smart, Chief Human Resources Officer at the Treasury Board of Canada Secretariat, and Patrick Borbey, President of the Public Service Commission of Canada, talked about the success experienced by 14 different departments in hiring more than 25 persons with intellectual disabilities through a pilot project with LiveWorkPlay.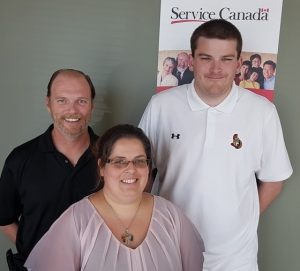 They encouraged additional hires on the way to the significant future milestone of 100 hires. While we aren't there yet, with the recent hiring of Owen Kyte at Service Canada, we are half way there: 50 jobs!
LiveWorkPlay is now working with organizations to support inclusive hiring in locations outside of the National Capital Region, including Community Living Mississauga, who recently visited LiveWorkPlay for a learning exchange about employment supports. Launched with support from the Ottawa Community Foundation New Leaf Community Challenge, the LiveWorkPlay Federal Employment Strategy Group coordinated by Jen Soucy has delivered time and time again with great connections for the development of effective employment relationships.
"A special thanks goes out to our co-chairs, Mary Gusella and Daniel Spagnolo" says Jen. "Their enthusiasm for inclusive hiring practices is spreading throughout the federal public service, and we now have dozens of motivated champions at all levels in multiple departments."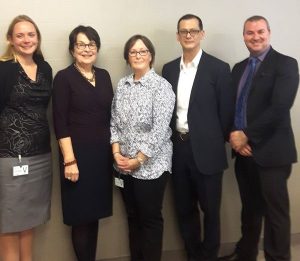 "It's actually getting hard to find a meeting room big enough for everyone who wants to be involved in moving the needle on the hiring of people with intellectual disabilities, and this initiative has also been enhanced by linking up with operations in other parts of the country. I am glad we are stopping for a moment to recognize this very meaningful milestone, but I know the push for 100 is already underway!"
With the increased scope and scale of the federal initiative, Jen is now taking a step back from private sector engagement, and LiveWorkPlay has taken on a second employer partnerships leader with the hiring of Tammy Whelan.
Tammy brings with her a range of experience, including her most recent role in Community Relations at Whole Foods Market. Tammy will be working with the LiveWorkPlay Employment Task Force (comprised of volunteers, many of whom are employers who have hired at least one person with an intellectual disability) to develop new relationships with businesses big and small across Ottawa.
Maybe you or someone you know will make the next hire: please get in touch!