Remembering Louisa (Lou) Hawkins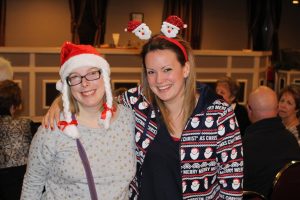 A celebration of Lou's life will be held in the chapel at the Garden Chapel of Tubman Funeral Homes, 3440 Richmond Rd., Nepean, on Monday, October 1st at 2 pm. (See announcement image below).
Lou was on maternity leave as a Community Connector at LiveWorkPlay. For those who did not know Louisa, she came to LiveWorkPlay in 2015, having written a remarkable thesis about the care of seniors, before graduating at Carleton. She had also volunteered with youth and people with disabilities.
The photo is from her first Family Feast event. She made connections quickly and was well known even by many who did not spend time with her on a regular basis. Lou would have been in high demand to complete a PhD anywhere she liked, but she wanted to spend some time putting her learning into practice.
She loved her work, and this was obvious to all staff, volunteers, members and families that spent time with her.
We encourage those who are having difficulty to reach out to others, and to know that professional help is also available. We have assembled a list of contacts who can assist in dealing with grief, and you can contact allison@liveworkplay.ca or julie.kingstone@liveworkplay.ca for more information or give them a call 613-702-0330 or 613-702-0331. The Ottawa Distress Centre is available 24/7 at 613-238-3311.