Congratulations Alastair: Second Work Anniversary!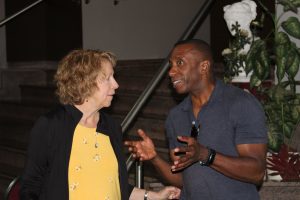 Quality in human services has a direct correlation to quality humans delivering those services, and experienced, committed staff who stay in their jobs over the long term are critical to a strong workplace culture. They serve as mentors to new staff, and establish a consistent trusted presence with individuals supported by LiveWorkPlay and their families.
We are now sharing a bit more about our staff team on their annual workplace anniversaries. Join us in celebrating an October 28th work anniversary for Alastair McAlastair Ghartey! To help get to know him a little better, here are some questions and answers about Alastair.
What is a favourite memory of your most recent year at LiveWorkPlay?
It's very exciting to be a part of the growth of the employment team, which is now the biggest in LiveWorkPlay history!
I'm on the Job Connector team with Kelly, Celine, and Laura, who have all been added in the past year, which means I've actually been in this particular job longer than any other current staff member!
What stands out from your first year at LiveWorkPlay?
I think back to my first two weeks, although I knew a lot about the organization and had even been involved in some events from a previous career in television media, I wasn't sure what it would really be like to work here. Everyone was so open and welcoming, it didn't take love to realize I'd found a home with a great group of people who love what they do. I appreciated the training period but I really couldn't wait to get started bringing employees with intellectual disabilities together with employers.
What are you looking forward to in the coming year?
We're making changes to how we explain our employment process to candidates as well as to employers, and I think it's going to be really good for the employment relationship, and also for families, who don't always understand why we aren't looking at the want ads or handing out resumes. Our results come from getting to know the job-seeker, getting to know employers, and making a really good match. But we have some work to do to explain how we go about it because it probably seems like a bit of a mystery. The numbers of people we support getting great jobs is pretty amazing, but for the job seeker and their family, up until that moment of a handshake with the employer, there can be a lot of anxiety and doubt, and we want to help reduce that and build as positive a partnership as possible at all stages of the relationship.
What do people who know Alastair have to say about him?
He is so passionate about what he does, you won't see a happier person than when someone gets a great job that they wanted, gets their first paycheque, or masters something new that they were asked to learn on the job.
Alastair is very thoughtful, as an example he has been restocking emergency snacks that are available to anyone on the team, he's been doing that for as long as I can remember!
Probably a lot of people know he's very funny and that he has done many professional comedy shows, but it's not just a stage act, he's always smiling and making people laugh.