On This Day Of Giving, A Story Of Recognition: LiveWorkPlay Co-Leader Keenan Wellar Surprised With Golden Key Honour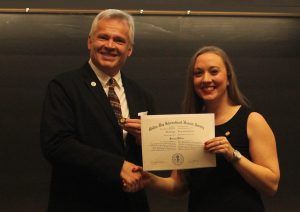 On this Giving Tuesday 2018, our co-leader Keenan Wellar will be leading our campaign that asks people to give. But he is humbled to also share the news of what he has just received: an Honourary Membership to the Golden Key International Honour Society!
The world's largest honor society, Golden Key was founded 29 November 1977, at Georgia State University in Atlanta. Now with over 400 chapters in eight countries, there are over 2,000,000 members worldwide, including 100,000 from 20 chapters in Canada, with Carleton University having joined in 2017.
Membership into the Society is by invitation only and applies to the top 15% of college and university sophomores, juniors and seniors, as well as top-performing graduate students in all fields of study. Honourary Membership is also by invitation only (there is no public call for nominations) and Keenan was therefore taken completely by surprise by the announcement. 
Although not a prerequisite for the award, Keenan's history with Carleton University is associated with the leadership and community service that resulted in this recognition, bestowed to just three inductees in 2018 (also honoured were Adrian Chan and Onita Basu).
In his speech, delivered at the New Member Recognition Event on November 16, Keenan talked about giving back to Carleton through mentoring, and also about the kindness, welcoming, and inclusion he experienced by staff and faculty when he first looked into doing a Masters of Arts in Applied Linguistics & Discourse Studies.
"I have to be honest, based on academic performance, I would not have been a member of Golden Key as an undergraduate student," said Keenan, to the sounds of appropriate laughter breaking out in the theatre. "In fact, I wasn't sure I was really graduate school material. But program administrator Karen MacKinnon and Professor Aviva Freedman convinced me that I was not only qualified, but that I had a contribution to make. I have never forgotten the lesson of how 15 minutes of caring by strangers changed my life, and how appreciating people for their unique gifts is what makes a better world for all of us."
Asked to focus on his journey with LiveWorkPlay, Keenan embraced the recent good news story about Tim Siebrasse and Shopify (read the story here) to make a connection with Golden Key's own interests in supporting diversity and human potential.
"It has been said that the experience of diversity is for the outsider to be invited to the dance. The experience of inclusion occurs when they are actually invited to dance."
In the spirit of Giving Tuesday, Keenan told the students that "I will gladly accept your money and time" but also reminded them that serving their communities might not always be about donating or volunteering for charitable organizations.
"Most of you are clearly heading for a day in the near future when you will be in a position to influence or take leadership with regard to hiring practices in your chosen careers and workplaces. Serving your community might mean asking questions about diversity in human resources, advocating for change, and doing what Karen and Aviva did to include me in graduate studies, or what Shopify has done to ensure Tim is a fully included Shopifolk."
You can see Keenan's certificate and Golden Key pin and view others photos from the event in the album on our Facebook page.