Happy First Work Anniversary Kelly Fox!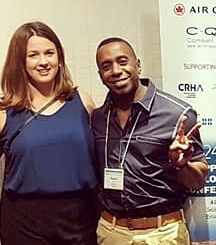 Quality in human services has a direct correlation to quality humans delivering those services! Experienced and committed staff who stay in their jobs over the long term are critical to a strong workplace culture. They serve as mentors to new staff, and establish a consistent trusted presence with individuals supported by LiveWorkPlay and their families. We are sharing a bit more about our staff team on the occasion of annual workplace anniversaries. Join us in celebrating a first anniversary for Kelly Fox! To help get to know her a little better, here are some questions and answers about Kelly.
What is your favorite memory of your first year at LiveWorkPlay?
Over the last year I have shared many great experiences with members, colleagues and employers. One of my favourite memories has been watching one of our employment candidates flourish in her role at Health Canada. This individual and her employer were new to LiveWorkPlay and our approach, and each of them jumped in with such positive energy, it's not surprise that this has become a wonderfully successful match.  I really appreciate that she has been offered and accepted opportunities on the job to continuing learning and growing in her role.
What brought you to work at LiveWorkPlay and why?
Before there was an opportunity to work at LiveWorkPlay I admired their approach to inclusion and diversity in the community. The person-centred and community-based practices are what interested me most, and what makes me so proud to work here now!

I originally heard about the organization through a workplace that had employed a person with an intellectual disability with help from LiveWorkPlay. I remember the day that he was matched to the job and each step that followed. LiveWorkPlay supported this young man in building his social capital, learning the bus routes to work, and helping him grow his role – by the way, this young man is still working and thriving at his workplace!
What are you looking forward to in the future with your work?
I am also looking forward to taking part in more learning opportunities such as the CASE conference in Montreal in June, where LiveWorkPlay will be presenting! We are always looking to improve, and I am looking forward to implementing some of the changes we have adopted in the employment team.
Three quick compliments about Kelly shared by workers and people she helps support:
She is such a strong advocate who truly believes in person-centred support and inclusion!
Kelly likes to have fun but also has a very analytical mind and will take the time to know a person she is supporting so she can be at her best in representing them.
She could teach a master class in how to be organized!