New Board Members, New Mission Statement: AGM 2019
Our Family Feast celebrations in September, December, and March draw 150-200 attendees, and our sold out Make A Buzz Ottawa community recognition event brings in another 350 each May, so the LiveWorkPlay Annual General Meeting each June is focused less on fun, and more on the business end of operating a federally incorporated non-profit and registered charitable organization.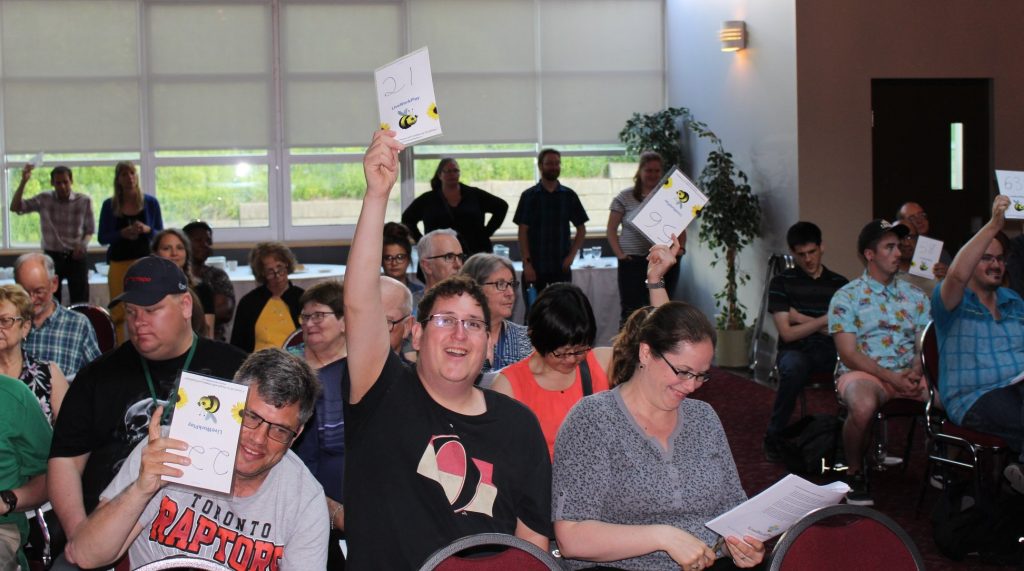 The June 25, 2019 event at St. Anthony's Banquet Hall not only brought in many non-voting participants, it was also more fun than expected, and full of warm moments for retiring board members Cathy Velazquez and Kari Whatley, as well as appreciation for a remarkable year in support of housing, employment, and community engagement. The meeting is free to attend and open to all, but attendance is mostly comprised of those with voting privileges (35-person voting membership) who are representatives drawn from supported individuals, family members, volunteers, community partners, and members at large.
The most important agenda item of the night involved adoption of a revised mission statement. Adopted with a unanimous vote, the mission (new words in italics) now reads:
LiveWorkPlay helps the community welcome and include people with intellectual disabilities, autistic persons, and individuals with a dual diagnosis to live, work, and play as valued citizens.
"The board proposed this amendment to the mission to better recognize the diversity of the individuals we support," said Chair Cathy Velazquez. "This means adding a reference to 'autistic persons' and 'individuals with a dual diagnosis.' A dual diagnosis means that in addition to having an intellectual disability, and/or autism, the person also has an identified mental health issue. We also added the word 'include' to the mission so it is more clear that this is the intended outcome – to be included in their community."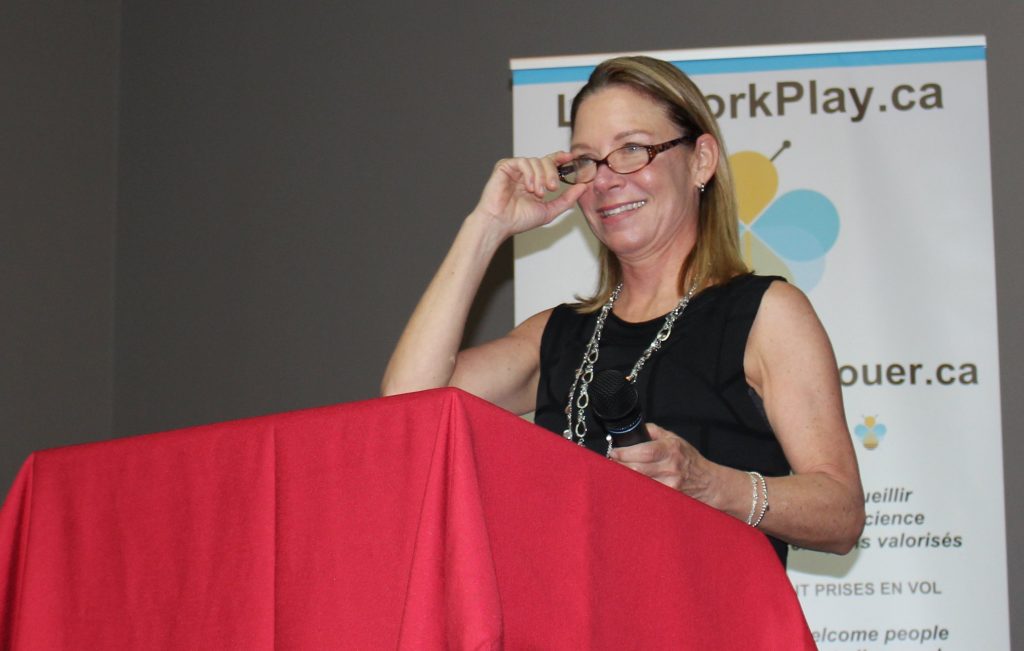 This was Cathy's last meeting, having retired after more than 5 years of service (4 as Chair) and Kari Whatley also retired after 3 years of service. Kari was thanked by co-leader Keenan Wellar (who also serves as Secretary to the Board) and Cathy was thanked by colleague Christine Felteau. Christine's remarks served as a tribute to Cathy as well as summary of some of the major governance accomplishments of the past 5 years:
revised bylaws and charitable purposes and completed all necessary steps for the successful accession of LiveWorkPlay to the new Canada Nonprofit Corporations Act
adoption of the Governance as Leadership model and creation of our Governance and Stewardship committees
building from our theory of change and establishing our Vision 2020 strategic priorities
development and implementation of policies for reserves and investments
updated compensation and benefits plan for all staff
updated executive staff performance review process
updated board recruitment and board feedback processes
leadership in assuring board member presence at our family feast and Make A Buzz celebrations

Also presenting were Ross Holmes (independent auditor) who reviewed the financial statements, Julie Kingstone (Report on Operations) and Keenan (Report on Communications). Each board candidate also made a brief presentation about their interest in advancing the LiveWorkPlay mission, their history with the organization, and personal and professional biographical information. Returning to the board are Daniel Spagnolo, Michelle O'Doherty, Christine Felteau, and Laurie Hogan. Newly elected are Robin McIntyre and Kate Sherwood. You can learn more about them in the Annual Report, which also provides additional information about all of the items mentioned above. You can also enjoy a photo album from the event!