Celebrating 100 Hires: Partnership Milestone with Federal Public Service Celebrated with Health Canada
A historic milestone was celebrated with Health Canada employee Heather Kidd, her co-workers, and department leaders on Friday, January 24. They gathered to recognize the 1ooth hire by federal government departments and agencies as facilitated by LiveWorkPlay employment supports.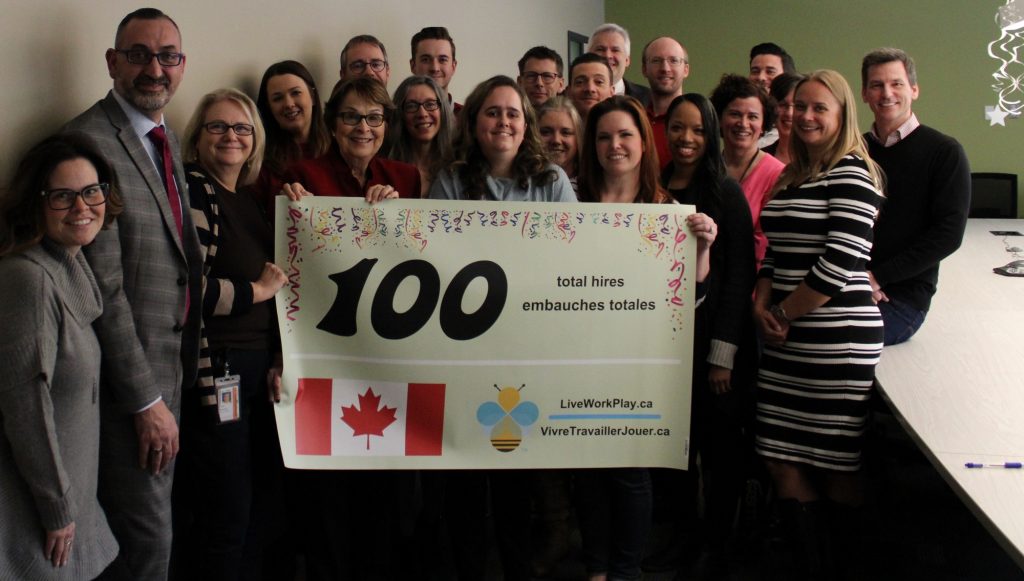 Speakers at the gathering included Keenan Wellar (Co-Leader and Director of Communications at LiveWorkPlay), Mary Gusella (Co-Chair and founding member of the LiveWorkPlay Federal Employment Strategy Group – FESG), and Fabio Onesi (Executive Director, Health Canada Corporate Policies and Programs Division). Also in attendance was Michelle Boudreau, Director General, Controlled Substances Directorate for Health Canada, and Jacqueline Bogden, Assistant Deputy Minister, Controlled Substances and Cannabis Branch, Health Canada. Keenan began by summarizing the beginnings of the relationship with the federal public service, developed by LiveWorkPlay's Director of Employment Partnerships Jen Soucy back in 2015 . This early success was supported by a grant from the Ottawa Community Foundation to help establish the FESG, a group of current and retired federal public servants dedicated to supporting the hiring of people with intellectual disabilities and autistic persons in federal departments and agencies.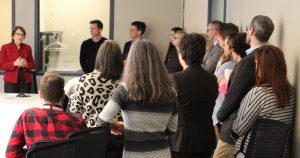 In March of 2018 the Federal Public Service Commission of Canada and the Treasury Board of Canada Secretariat issued a joint communique that discussed the progress of the partnership with LiveWorkPlay, with more than 25 hires across 15 departments, and issuing a challenge to reach 100 hires. By the end of the summer, 50 jobs had been surpassed, and by February 2019, the milestone of 75 jobs was announced by MP Anita Vandenbeld in the House of Commons. By the time of National AccessAbility Week at the end of May, the push for 100 hires by the end of 2019 was on, with a ceremony hosted by Employment and Social Development Canada (ESDC) featuring Krista Wilcox, Director General, Office for Disability Issues, and London West MP Kate Young (representing the Minister of Public Services and Procurement and Accessibility).
Mary referenced her own 36 years in the public service, working in a variety of departments and agencies and finishing her career at the Canadian Human Rights Commission, and her desire to contribute in retirement to supporting a more inclusive environment, and particularly opportunities for people with intellectual disabilities and/or autism. "With the LiveWorkPlay employment support model, we've seen historic success, and although achieving this milestone of 100 hires in just under two years is remarkable, I would like to see us all working together for another 100 hires in a year!"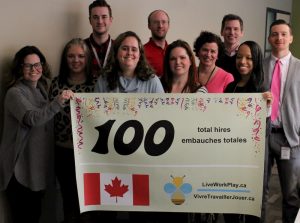 Mr. Onesi talked about the progress to date, the leadership, by champions like Assistant Deputy Minister Debbie Beresford-Green, and the energy and excitement exhibited by individuals and departments to move forward on the diversity and inclusion mandate. This spirit was well represented by others in the room who work with Heather and offered their support to the occasion.
"Everyone benefits when a workplace reflects the diversity of the public it serves. Varied backgrounds provide different perspectives, experiences and insights required to better meet the needs of Canadians, and also contribute to personal and professional growth" said Chris Rose, Director, Branch Operational Support Services, Controlled Substances and Cannabis Branch, Health Canada.
"Heather is a friendly and pleasant co-worker with an infectious positive attitude. She is enthusiastic in her current role and we are excited to identify new opportunities so she can expand her responsibilities and contribution to our team" said Alex Morrow , Manager Accommodations and Information Management, Controlled Substances and Cannabis Branch, Health Canada.
Although it was simply a matter of timing that Heather Kidd became the face of the 100 hires milestone, she embraced the role with enthusiasm, and was thankful for the report she received from the LiveWorkPlay employment team (Kelly Fox and Joshua Gray) and of course from her colleagues.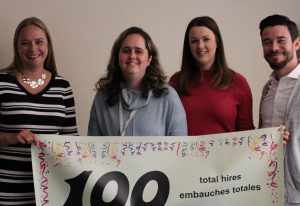 "I have great co-workers and supervisors, and I look forward to working hard every day, and meeting new people in carrying out my duties. I am proud to be a part of the Health Canada team. On a personal note, I am saving for a trip!" said Heather.
Back in May of last year, Health Canada was previously honoured by LiveWorkPlay as the 2019 Leadership in Employment Diversity Champion at the Make A Buzz Ottawa celebration, with six individuals hired with help from LiveWorkPlay up on stage with department leaders. LiveWorkPlay will celebrate 25 years at Make A Buzz Ottawa 2020, where it is expected that the federal public service partnership will once again receive a mention or two! This event (which features dinner and music as well as awards) sells out quickly and tickets are now on sale.
Related: Launch of employment video and inclusive hiring campaign in partnership with Innovation, Science and Economic Development Canada.
Congratulations Troy: RMCP Hosts Ceremony To Celebrate Promotion