It's A First Year Full-Time Work Anniversary For Liam Pignat!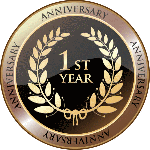 Quality in human services has a direct correlation to quality humans delivering those services! Experienced and committed staff who stay in their jobs over the long term are critical to a strong workplace culture. They serve as mentors to new staff, and establish a consistent trusted presence with individuals supported by LiveWorkPlay and their families. We are sharing a bit more about our staff team on the occasion of annual workplace anniversaries (until everyone has at least one work anniversary post). Join us in celebrating a first anniversary for Liam Pignat! To help get to know him a little better, here are some questions and answers!
What is your favorite memory of your first year at LiveWorkPlay?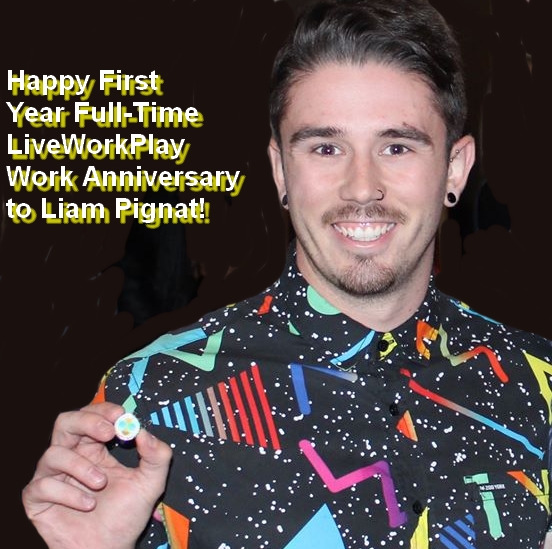 My favourite memory in my first year here (besides of course the excitement of being asked to join the team once my Carleton University student placement ended) would have to be going to Montreal with the employment team for the CASE conference. The conference had all kinds of wonderful guest speakers and presentations and was also an amazing way to really get to know my co-workers. I knew I was joining a great team.
Also, I had never really explored Montreal, so it was awesome to see a bit of the city, especially with Anna and Alastair who knew the city so well. It definitely added to the experience having some local tour guides! This conference was also an opportunity to practice my networking skills – this was never something I ever thought I would be good at, and now it is an important part of what I do on a routine basis.
What brought you to LiveWorkPlay?
I was completing a student placement from Carleton University's Bachelor of Social work program. I applied to LiveWorkPlay because I discovered the organization as part of the research I was doing for one of my 3rd year papers about Autism and Employment. I started out shadowing Rebecca, Anthony, Daniel and Wendy mostly on the "Live and Play" side of things, before making the jump over to the "Work side" where I had a lot more questions and more to learn. I enjoyed it so much that when my student placement was coming to end, I didn't hesitate to accept the offer to join part-time while I finished up my degree.
What are you looking forward to in the future with your work?
I am looking forward to whatever challenge is thrown my way! I know that sounds vague or that I haven't thought about it, but it's true. I have taken on so many different roles since starting as a student here in September 2018. I have done independent living support, community connecting, onsite job support, been a discovery specialist meeting new job seekers, worked directly with employers, facilitated inclusion workshops with the federal government, networked at business breakfasts and events, and I've even been able to put to use my artistic side by designing the LinkedIn profiles for our job seekers, and taking the photos.
I have had the opportunity to try out so many different roles and learn all kinds of new skills, so I am really looking forward to whatever the next challenge is that finds its way into my lap. If you had told me in the summer of 2018 that I would be running workshops, designing marketing projects, and going to business breakfasts as part of my job, I would never would have believed you. So, like I said, I am truly looking forward to whatever challenge is thrown my way!