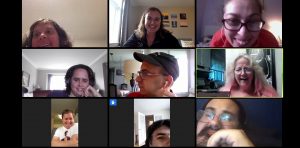 Sarah Villeneuve is finishing up her summer employment with LiveWorkPlay. She has taken the time to share a few memories with us before she returns to her post-secondary studies.
---

What is your favorite memory of your summer at LiveWorkPlay?
I have so many wonderful memories of my summer here at LiveWorkPlay, including hosting and co-hosting sessions in our Zoom room. I was impressed with the LiveWorkPlay trivia night – the members are incredibly knowledgeable about the organization and it was almost impossible to stump them!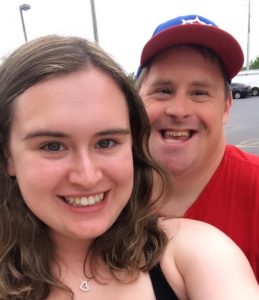 I learned a lot myself with the online cooking sessions, I was pretty much a rookie when it came to baking and I made quite a mess for all to see on the video, but the muffins turned out really good, and we all had a great time while creating some wonderful snacks.
What brought you to LiveWorkPlay?
I found out about LiveWorkPlay from my uncle Daniel, who has been a member of this organization for several years. I started out by volunteering as a one on one match and was ecstatic to find out that they were looking to hire a student for the summer. I love everything that this organization stands for. It has also been an amazing learning opportunity for me, and is extremely relevant to my background in psychology, and my future studies at teacher's college.
What are you looking forward to doing in the fall after your summer job with LiveWorkPlay is over?
Although I am going to miss everyone terribly, I am looking forward to starting my Bachelor of Education in the fall to become a teacher And of course, I will continue to be a supporter of LiveWorkPlay!