LiveWorkPlay Welcome To Summer BBQ Lifts Spirits At TD Place
The LiveWorkPlay Welcome To Summer BBQ was held at Lansdowne Park, at the TD Place Stadium Log Cabin in Lansdowne Park, on the evening of June 15, 2022! We ate of course, played soccer, celebrated Paul Knoll as the recipient of this year's Rob More Good Life Award, and introduced the entire staff team (including a few who could not make it – duty calls) and wrapped it up with a live performance by Kenny Hayes! Below find photos of the two ceremonies with the text of the speeches, as well as live raw video from two perspectives: 16 floors up, and on the ground!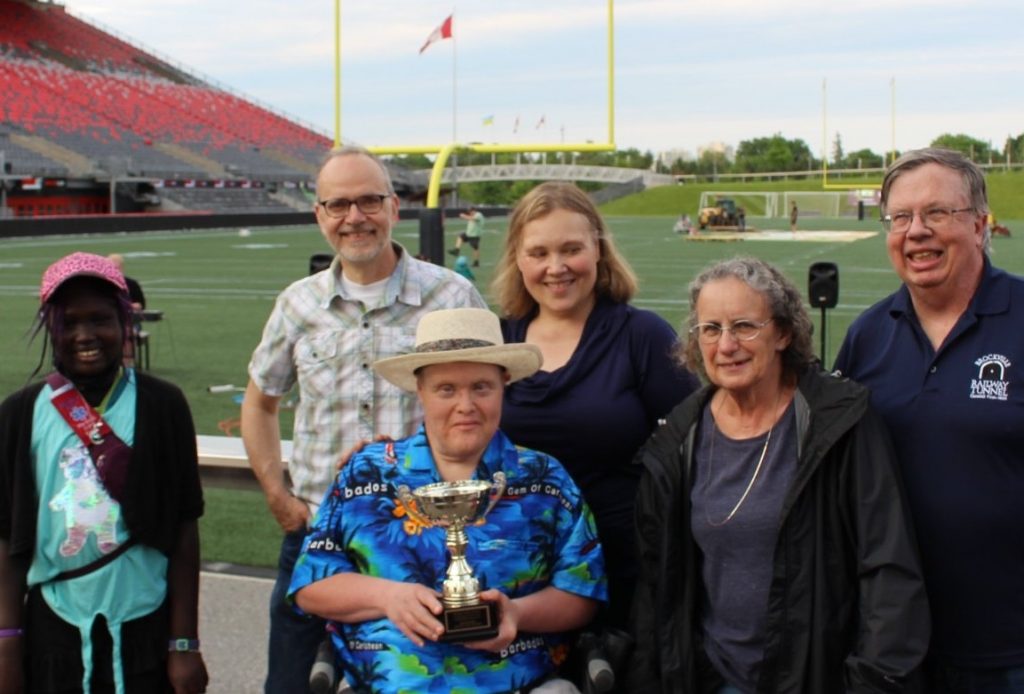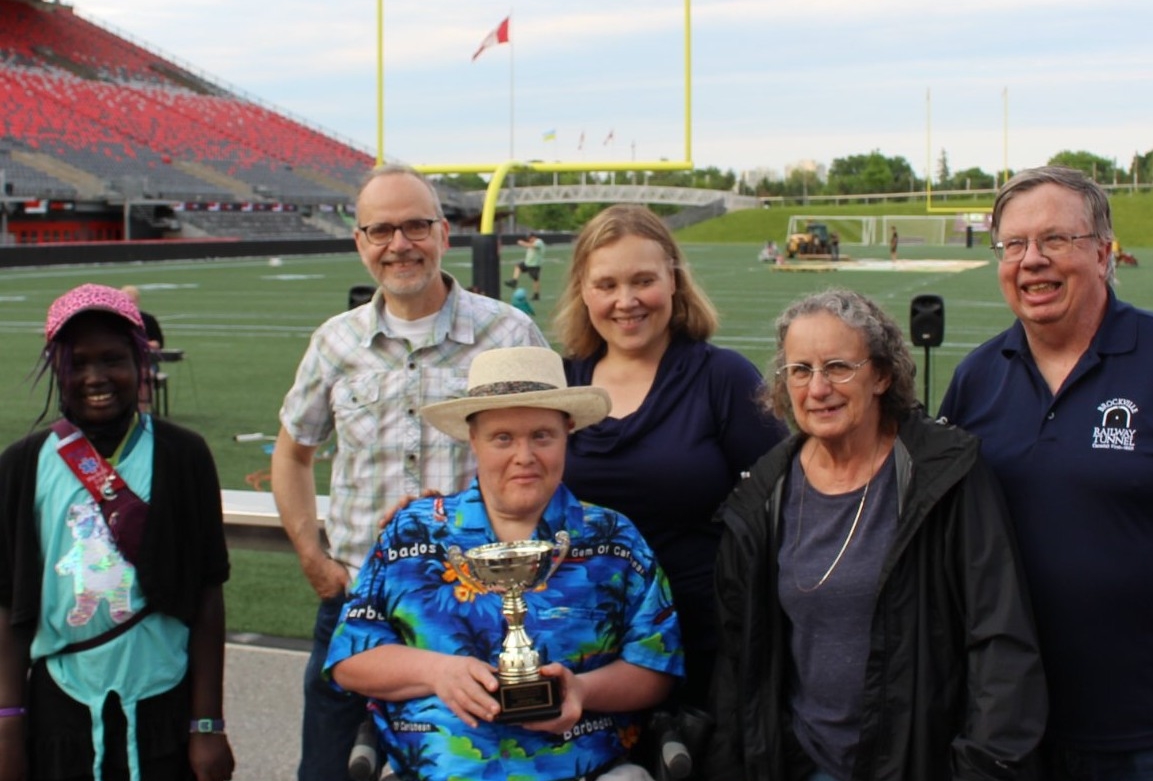 The Rob More Good Life Award was established to celebrate the life of our son, LiveWorkPlay member Rob More, who died tragically along with five others in the September 18, 2013, bus/train crash.
We continue to celebrate Rob's life, and we also hope to inspire others to pursue a Good Life of their own. Rob loved his home, his neighbourhood, volunteering at the Experimental Farm, and his work at IBM. Rob was a huge sports fan, and this surely would have been one of his favourite LiveWorkPlay events. We know Rob is looking down this evening with a huge smile on his face, seeing the Rob More Good Life Award ceremonial cup being presented here at TD Place in Lansdowne Park.
The Rob More Good Life Award is given each year to an individual who has experienced significant life transitions in pursuit of their own goals and dreams.
We could not be more pleased with how well this year's recipient represents the spirit of this ceremony in honour of Rob.
This year's honoree retired from the Canada Mortgage and Housing Corporation in 2016, after a career that spanned more than two decades.
With the passing of his mother and father, he built a new life with his wonderful sister Helen and brother-in-law Steffen.
Among some of the struggles that needed to be overcome, he went through a major hip surgery, and did hard core physio to get back to walking and biking, and his very busy life as a volunteer and artist, and as leading figure of the Westboro cultural community.
This year's recipient also supports LiveWorkPlay as an ambassador at events and in the media, including features about two of his biggest art commissions, the giant decorative project at the Dovercourt wading pool which was celebrated in multiple newspapers, and a garage door mural commissioned by neighbour, friend, and fan Nick Alpin, which resulted in a popular segment on Accessible Media television. And he has also hosted and co-hosted LiveWorkPlay presentations in celebration of World Down Syndrome Day.
This year's award recipient will not only be photographed with the ceremonial cup, he will also receive a fleece jacket and sliver-plated bumblebee pin, and coffee cup designated him as this year's recipient, complete with signature from Keenan Wellar authenticating the award.
I am sure you've all figured it out his identity by now, so please join us in welcoming this year's Rob More Good Life Award honoree, Paul Knoll.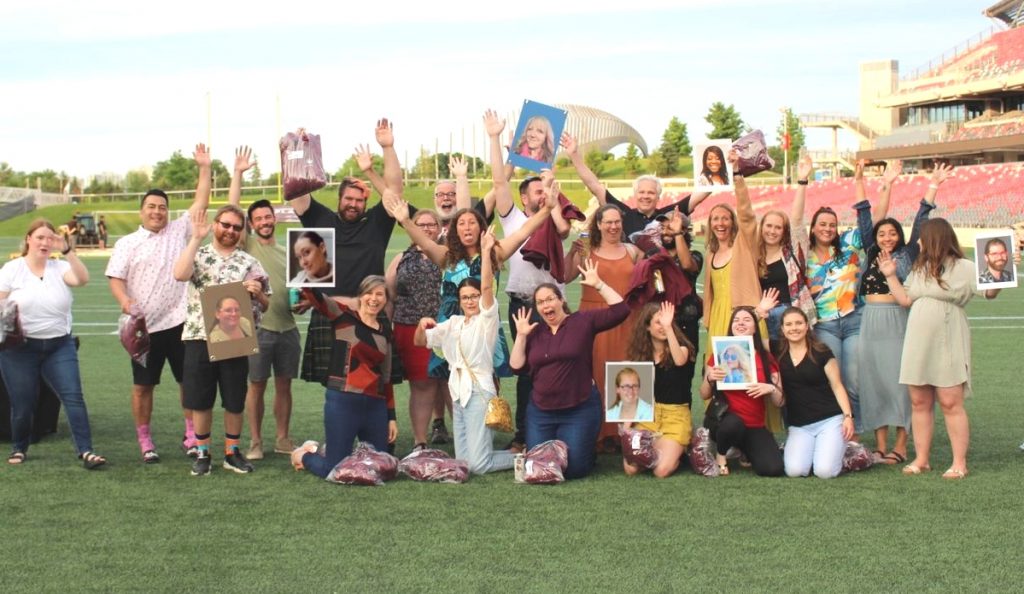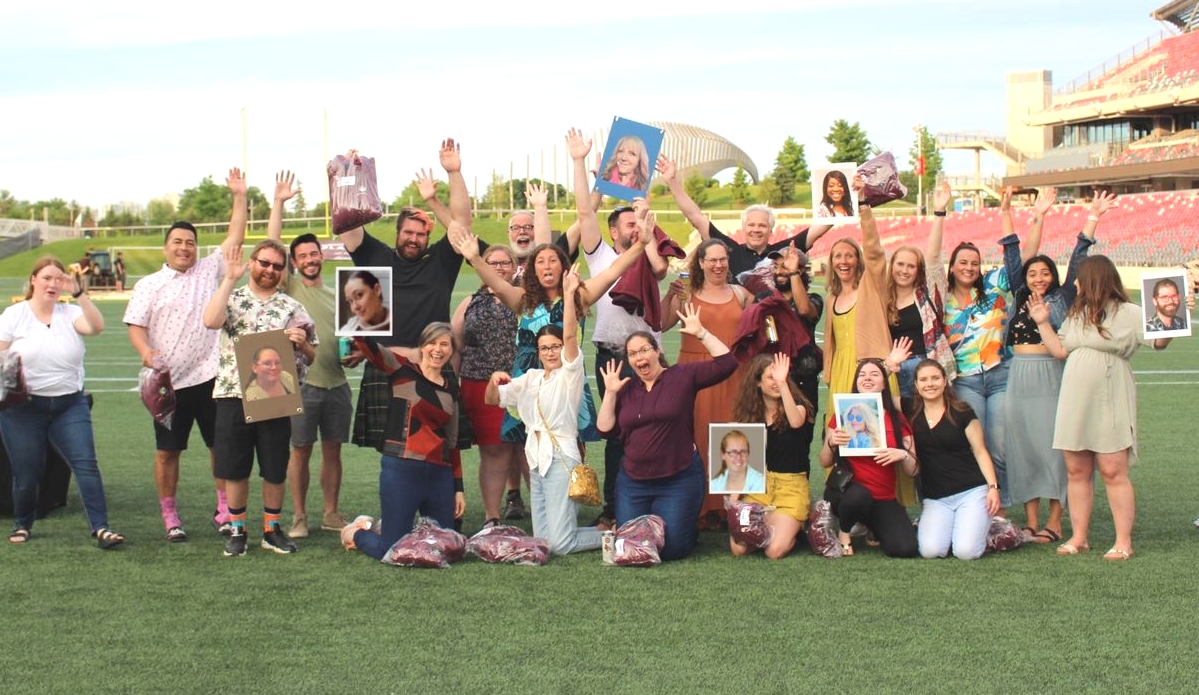 Ceremony hosted by Julie Kingstone:
The LiveWorkPlay staff recognition ceremony has traditionally taken place at the Annual General Meeting or the Welcome Back Family Feast in September. There hasn't been an opportunity to introduce you to our staff team in person for more than two years, so it's my honour to be here this evening to host our return to this important ritual.
As you know, media personality and business leader Kimothy Walker was going to be our guest MC tonight, but she was in a serious car accident on the weekend. She is doing well but does have broken bones that will prevent her from being here tonight, join me in wishing her a very speedy recovery and we'll have her back to host at a future event!
Tonight, we're also play catch-up with the awarding of staff years of service pins. These one-of-a-kind symbols feature our trademark bumblebee, and if you look closely, with every five years of service, a number is placed on the wings to recognize these milestones of dedication.
Now, there's been some feedback in the past that it's hard to keep track of these pins, so that problem has been solved by also awarding each staff member a commemorative LiveWorkPlay fleece!
Now, as a marketing expert, Keenan knows what's going to happen, everyone wants to know how they can get one of these jackets too! Good news, Keenan is working on a way for you to order one for yourself, and of course they will make great gifts as well. But that's not for today! So please hold your questions about how to get your own fleece and we'll move ahead with introducing you to the team.
We're going to celebrate in three groups tonight, so if I can please have group one to the front.
This is our amazing group of newcomers. They have all joined the employment team or community team within the last six months. Please hold your applause, as I introduce you first to the new members of the employment team, and then the community team.
Katie MacMaster
Sarah Nkanza
Neil Abraham
Richard Landry
Welcome Katie, Sarah, Neil, and Richard!
Next up we have our newest members of the community team. Again, please hold your applause.
Karyann St Amour
Roberto Guardado
Mikayla Young
Tianna Geddes
Sydney Whitmore
and our summer student Shyla Holmes
Welcome Karyann, Mikayla, Roberto, Tianna, Sydney, and Shyla!
Next up we have members of the employment team, community team, and management team. As their years of service ranges from 1 year to 5 years, I will start with 1-4 years of service, and then we have a big group with 5 years. Please hold your applause until the end of each group.
Joëlle Perrier, Employment Team, 1 year
Jenna Odorico, Community Team, 2 years
Maggie Dimock, Community Team, 3 years
Ron Kok, Community Team, 4 years
Laura Lobay, Employment Team, 4 years
Congratulations Joelle, Jenna, Maggie, Ron, and Laura!
Next up, each with 5 years of service and receiving their 5-year milestone pins:
Rebecca Coxon, Management Team
Anna Nelson, Management Team
Joshua Gray, Employment Team
Batoul Auf, Community Team
Christopher Floyd, Community Team
Congratulations Rebecca, Anna, Joshua, Batoul, and Christopher
Our final group for the evening is a big range, I am going to start with those who have between 6 and 10 years of service.
Wendy MacEwan, Community Team, 6 years
Roberta McKenna, supporting every team, but especially employment intake, 6 years
Shayna Grey, Community Team, 6 years
Alex Darling, People Connector and Volunteer Coordinator, receiving her 10 years of service pin!
Congratulations, Wendy, Roberta, Shayna, and Alex!
For our final group of six, let's slow it down for some individual recognition.
Fresh out of Loyalist College, he joined the LiveWorkPlay team back in the Heartwood House days and helped build our individualized approach to community supports. I'm talking about Anthony Stratton and his 13 years of service!
Her work has always been done mostly by telephone and video, so she was a pioneer of remote support long before the pandemic. The only emergency support worker we've ever had, Jennifer Cunningham, and her 13 years of service.
He started out as a student volunteer way back in the Bronson Centre days, but he joined the staff team a year before Anthony at Bronson Centre, then moved along to the C3 Centre, Michael Street, and the Pebb Building. He's done it all on the community team, we're talking about Daniel Harris and his 14 years of service.
Another student placement that worked out rather well, she was managing the community team back when calling a meeting was as easy as saying "Hey Anthony and Daniel, let's chat!" How times have changed! She knows the history of just about every member and all of their family members here tonight, yes, we're talking about Grace Hudson and her 17 years of service!
Technically speaking, our official start dates back in 1997 were about three months apart, but they've waived the right to individual recognition. We both started as volunteers in 1995, writing that first fateful funding proposal to the Ontario Trillium Foundation. When the grant was awarded in the fall of 1996, we looked at each other and asked "OK, who is actually going to run this organization?" After leaving our existing jobs in 1997, it's been an amazing ride of 25 years serving as your Co-Leaders, I'm Julie Kingstone, and this is Keenan Wellar.
OK, now we'll have a photo with our final group of six, and then a photo with the entire staff team!