LiveWorkPlay Commemorates World Autism Awareness Day, April 2, 2023 – Join The Virtual Event on Sunday!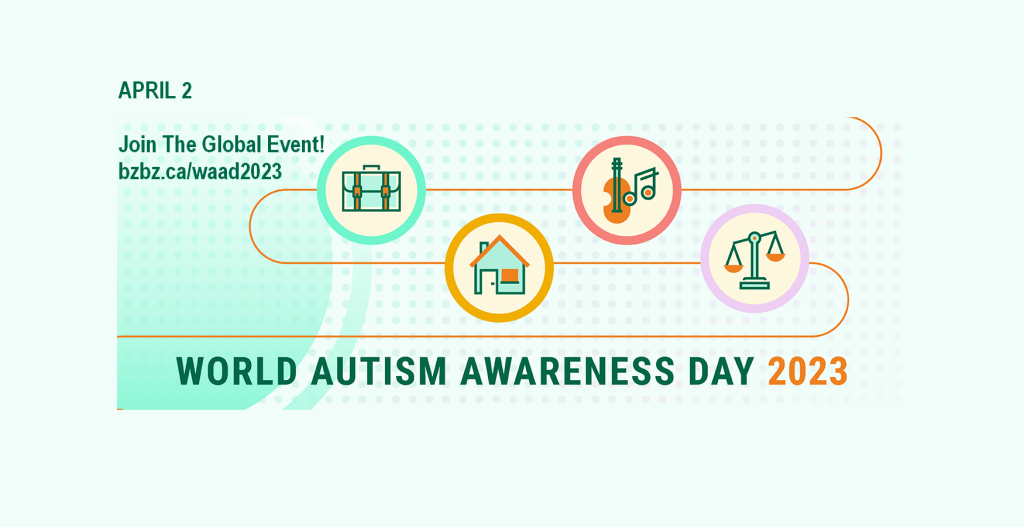 Transformation:
Toward a Neuro-Inclusive World for All
Virtual Event: Sunday, 2 April 2023, 10:00 a.m. – 1 p.m. EST
Register: https://bzbz.ca/waad2023
This year's observance of World Autism Awareness Day focuses on the contribution of autistic people at home, at work, in the arts and in policymaking. LiveWorkPlay embraces this amazing theme and the ACTIONS it supports.
Statement from: https://www.un.org/en/observances/autism-day
In recent years, major progress has been made in increasing awareness and acceptance of autism, not least thanks to the many amazing autistic advocates who have worked tirelessly to bring the lived experience of autistic people to the wider world. Additionally, medical professionals, researchers and academics in many countries are now incorporating the neurodiversity paradigm, coined by sociologist Judy Singer in the late 1990s, in their work.
We are moving away from the narrative of curing or converting autistic people and instead focusing on accepting, supporting and including autistic people, and advocating for their rights. This is a major transformation for all autistic people, their allies, the wider neurodiversity community and the world at large. It enables autistic people to claim their dignity and self-esteem, and to become fully integrated as valued members of their families and societies.
It also makes it possible to focus attention on the contributions that autistic people make to the world, as this year's World Autism Awareness Day (WAAD) observance will do, focusing in particular on their contributions in the home, at work, in the arts and in policymaking.
Autistic people do, nevertheless, still face discrimination and other challenges. As with all populations, autistic people have a wide range of talents and challenges that are often not recognized by the world they are born into. In addition, the levels of awareness and acceptance vary dramatically from country to country. We must also recognize that autistic people are especially vulnerable to the major upheavals to routines and daily lives that we witness all around us, such as pandemics, wars and natural disasters.
The 2023 World Autism Awareness Day Observance
This year, WAAD will be observed with a virtual event on Sunday, 2 April, from 10:00 a.m. to 1:00 p.m. EST.
The event is organized in close collaboration with autistic people and will feature autistic people from around the world discussing how the transformation in the narrative around neurodiversity can continue to be furthered in order to overcome barriers and improve the lives of autistic people. It will also address the contributions that autistic people make – and can make – to society, and to the achievement of the Sustainable Development Goals.
The 2023 World Autism Awareness Day observance is organized by the United Nations Department of Global Communications and Department of Economic and Social Affairs, in collaboration with the Institute of Neurodiversity (ION), an organization established and run by neurodivergent people for neurodivergent people and allies. ION is based in Switzerland and currently has a presence in 14 countries. ION is working to help create a world where neurodivergent individuals feel accepted, represented, included, empowered and heard.
The event will be streamed on the UN's YouTube and Twitter channels, and on UN WebTV.