LiveWorkPlay Community Celebrates Togetherness At The Welcome Back BBQ 2023 (September 6)
It's a new LiveWorkPlay tradition, now in year two: the Welcome Back Family BBQ at TD Place! The agenda is deliberately light, very kid-friendly (for kids of ages), and focused on enjoying delicious food, cold beverages, and great conversation. There is only one formal agenda item for the evening, the annual staff recognition ceremony (remarks provided below).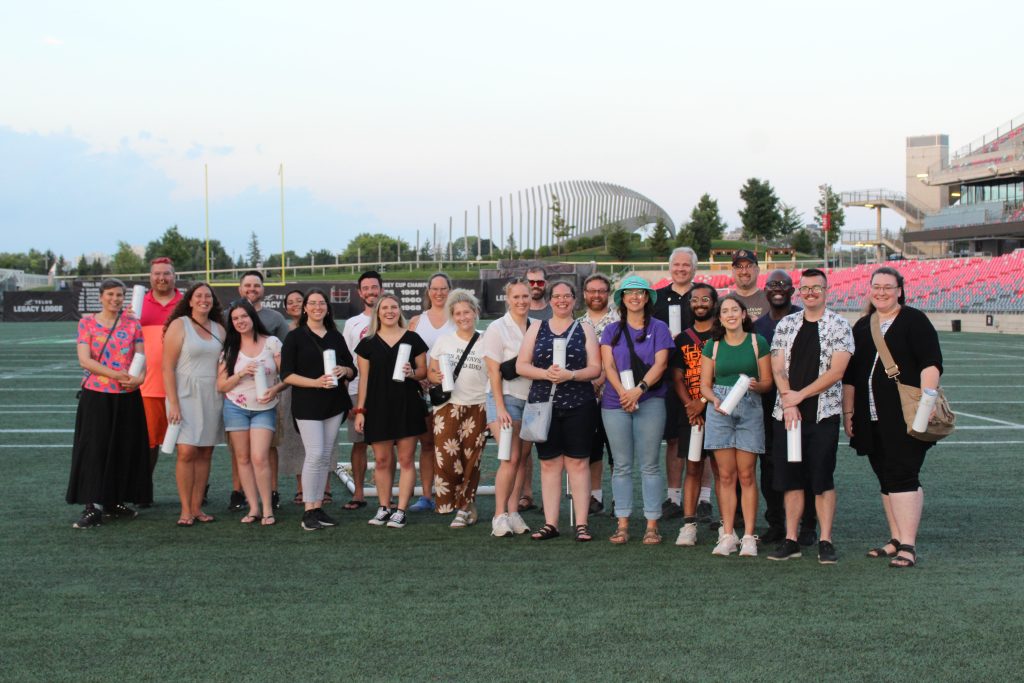 STAFF RECOGNITION CEREMONY – REMARKS FROM BOARD CHAIR ROBIN MCINTYRE
Thank you, Keenan. I can see everyone is having a great time so far, and I promise you nothing but socializing and games for the rest of the evening, once we complete this important annual tradition: our staff recognition ceremony. Labour Day was just 2 days ago, so this is great timing to show our appreciation.
For this annual tradition, when we celebrate the years of service of members of the staff team, we also try to come up with an interesting token of appreciation. We paid close attention at the Make A Buzz auction, and noticed many staff members were bidding on the 30oz LiveWorkPlay tumblers designed and produced by Jennifer Stratton. I am very pleased to announce that all current staff members will be receiving one of these beautiful and practical tumblers! As I call your name, please see incoming board member Kaye Kwok to receive your tumbler.
On with the ceremony. We're going to celebrate in four groups tonight, those with less than one year of service, those with 1-4 years, those with 5-10 years, and finally, those with more than 10 years of service.
Not every staff member could be here tonight, but I am going to say all of the names, and those who are here, please come on up, and those who are not here, well, you'll hear your name on the video!
To our audience, if you can please hold your applause, I am going to read the names without any pauses, and then when I finish the list and everyone from that group who is in attendance has joined me by the podium, I will ask for your applause. OK, here we go, starting with our group of newcomers.
Robert Olsen
Lianne Beaulac
Katie Murphy
Chad Austin
Jean-Claude Taylor-Cline
Ocean O'Flhoinn
Richard Foster
Abyssinia Clarke
Lindsay Pritchard
Cody Thompson
Welcome to the LiveWorkPlay team, let's hear it for group one!
Next up, those with 1-4 years of service.
I will read the names and then ask for your applause at the end.
Jennifer Broad
Mikayla Young
Neil Abraham
Richard Landry
Tianna Geddes
Sydney Whitmore
Joelle Perrier
Maggie Dimock
Thank you for your service to the LiveWorkPlay team, let's hear it for group two!
And now we're into the first milestone category: those who have served for at least 5 years! I'll read the names, and then we'll show our appreciation.
Ron Kok
Laura Lobay
Rebecca Coxon
Anna Nelson
Joshua Gray
Batoul Auf
Christopher Floyd
Roberta McKenna
Shayna Grey
Thank you for your contributions as experienced members of the LiveWorkPlay team, let's hear it for group three!
And finally, those with more than 10 years of service.
I'll go one by one so we can also take note of the number of years, but please hold your applause.
Alex Darling 11 years
Anthony Stratton 14 years
Daniel Harris 15 years
Grace Hudson 18 years
Julie Kingstone 26 years
Keenan Wellar 26 years
These six people have 110 years of service between them, let's hear it for our final group, and for the entire LiveWorkPlay staff team!