LiveWorkPlay Celebrates National Disability Employment Awareness Month (NDEAM) with Treasury Board of Canada Secretariat
---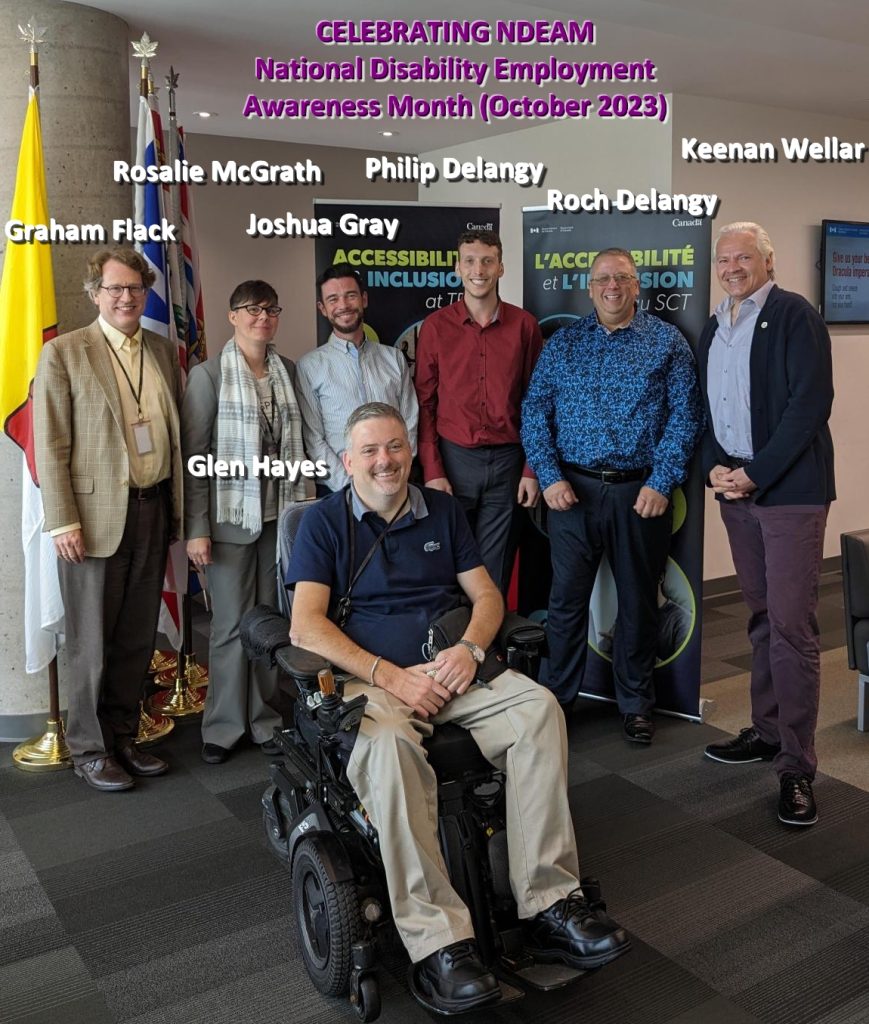 LiveWorkPlay was invited to an energizing and honest conversation about the employment of people with disabilities in the federal public service as guests of the Treasury Board of Canada Secretariat, which hosted an in-person panel at their Ottawa offices, as well as online guests from across the country via web conference. The event is part of ongoing NDEAM celebrations. National Disability Employment Awareness Month grew out of efforts to support returning veterans in the 1940s and has since become a broad movement in support of the employment of all persons with disabilities. You can learn more from the Canadian Association for Supported Employment and Ontario Disability Employment Network.
After a warm welcome from Isabelle Giroux, Employment Equity and Diversity Advisor, the event began with introductory remarks, followed by presentations from experts and leaders from TBS as well as the Public Service Commission of Canada. Making opening remarks were:
Glen Hayes – Inclusion, Diversity, Equity, Accessibility, and Human Resources Planning Advisor
Graham Flack – Secretary of the Treasury Board
Karen Cahill – Assistant Secretary and Chief Financial Officer
Rosalie McGrath – Advisor/Analyst, Digital Talent and Leadership Sector
Next up, LiveWorkPlay Co-Leader Keenan Wellar delivered remarks on behalf of the employment team (also present from the team were Joshua Gray, Jen Broad, and Katie Murphy, with Anna Nelson joining online). Josh got a shout out for his work in growing the Canadian Network Supporting Inclusive Public Sector Employment (CNSIPSE) which now has 10 hires in 9 provinces!
Keenan then handed off to Roch DeLangy (retired) Manager, Public Services and Procurement Canada, and wrapping up this portion was Philip Delangy, Surveillance Coordination Unit Support Officer, Health Canada (a jobseeker supported to find employment in the federal public service with help from LiveWorkPlay and public servants following the LiveWorkPlay Employment Supports Model).
"What a pleasure it was to have LiveWorkPlay join our TBS event to mark National Disability Awareness Month (NDEAM). Keenan, Roch and Philip, your contributions were the cherry on top of our event today. Let's continue to work together to support continued success with the hiring and retention of employees with intellectual disabilities in the federal public service" said Glen Hayes.
"At LiveWorkPlay's own annual recognition event in May 2019, we celebrated the Treasury Board of Canada Secretariat and the Public Service Commission of Canada for their joint efforts in issuing the 100 jobs hiring challenge across the federal public service…We have since more than doubled those numbers and are pushing towards a huge milestone of 200 hires across 40 departments, but we are now very focused on indeterminate hires. We are now at 33 indeterminate positions, and we really want to get to 40 in 2023, and 50 in 2024. In closing, with your help we can make that happen, and we very much want to support the goal of 5,000 hires of people with disabilities by 2025, which is such a vital component of the Accessibility Strategy for the Public Service of Canada. Let us make sure that workers with intellectual disabilities and autistic persons are not left behind" said Keenan Wellar.
"As a final thought to hiring managers, individuals with intellectual disabilities have an employment rate way below the national average and an average income below the poverty line; it is very unfortunate because they have so much to offer. I think it's time we squash the stigma associated with intellectual disabilities and give these folks a chance at becoming productive citizens; a basic right that some of us might take for granted" said Roch DeLangy in his concluding remarks.
"I currently work at Health Canada on an indeterminate basis. I thought it was important to let you know that I love my work, my boss and everyone I work with. I am also a very proud public servant.  I am very grateful to LiveWorkPlay for helping me find a job that I do well. I am also grateful that Health Canada gave me a chance to prove myself worthy of the position I occupy…Shout out to my manager Jennifer Beckman who has supported me, encouraged me, and challenged me to become the best version of myself at work. I really hope that in these few minutes I was able to convince you to give others like me a chance to prove themselves and become productive members of your team" said Philip Delangy, who closed out this portion of the meeting to thunderous applause.