LiveWorkPlay Support and COVID-19 Protocols
At this time (starting immediately and until further notice) staff and volunteers (as advised by Ottawa Public Health) will not be seeing members in person, unless it is for essential reasons (for example, if we need to bring you food, medication, etc.)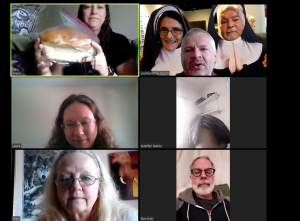 We have also opened a permanent Zoom room (videoconference) open 24/7 – if no host is available, that's OK, you will find yourself in the waiting room. You can try it any time, and you will also have the opportunity to test your audio and video. You can join from a computer, tablet, or smart phone. For log in information, ask any staff member and the details are also available in our private Facebook group.
LiveWorkPlay staff are continuing to work.
You can expect to keep your regular schedule with them, over the phone and/or by video, but if you want to cancel your support please let us know (contact the staff member that works with you) as staff will reschedule their time to help others who might need extra support.
And that's the main message here – we aren't going to see you in person unless it is essential, but you can phone, text, email, videoconference, Facebook messenger – we are here for you and working our normal hours and beyond as needed.