We Named It Well: Make A Buzz Ottawa 2023 Celebration of Inclusive Community on May 11
The annual LiveWorkPlay anniversary party and celebration of inclusive community known as Make A Buzz Ottawa was created as a merger of two events (Engines of Success and Recipe for Success) in 2015. The event moved online from 2020-2022 and was very well attended, but there is nothing as sweet as making a buzz live and in person at our home away from home, St. Anthony's Banquet Hall. The room was buzzing from beginning to end, with attendance of 200 that felt and sounded more like 1000 at times!
The online auction came up just short of the $5000 goal, but with a donation of $2000 provided by a generous guest, and unexpectedly strong ticket sales, financial support for Make A Buzz was solid, but not quite as strong as the emotions in the room – but nothing could match that! The celebration was joyous and even raucous at times. It was exciting to experience a standing ovation! Here are some of the highlights of the event, shared with photos and videos, including links to the same videos on YouTube, Facebook, and Instagram. We have also posted a photo album on Facebook. These are the awards in the order they appear below, and if you prefer text, click here for the speaking notes!
---
ROB MORE GOOD LIFE AWARD: MATT SUTTIE
If you want to see how a standing ovation builds from a grassroots reaction to a ceremoncy, this is the video for you! It's also moving for many other reasons, and we hope you will watch, learn, and enjoy it. FACEBOOK | INSTAGRAM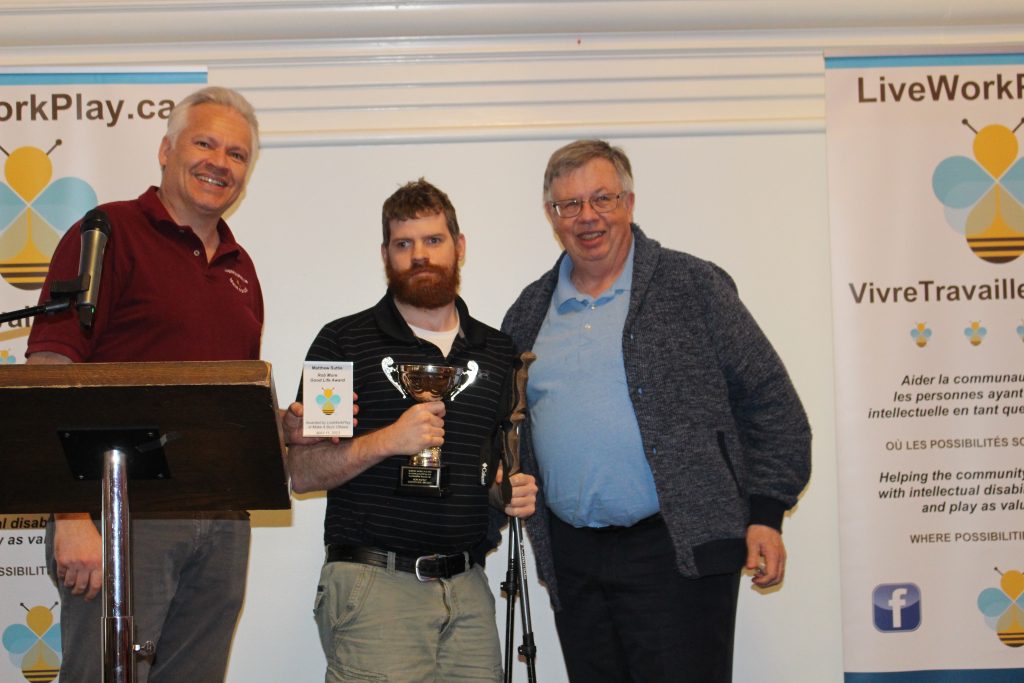 ---
INCLUSIVE EMPLOYER AWARD: FINANCE CANADA
Some of the amazing team from Department of Finance Canada accepting their Inclusive Employer Award, with some wild applause after the viewing of the video starring Nadine Ghadie and her colleagues. Nadine could not make it to the ceremony but (of course!) her team found a way to include her, joining in on FaceTime. FACEBOOK | INSTAGRAM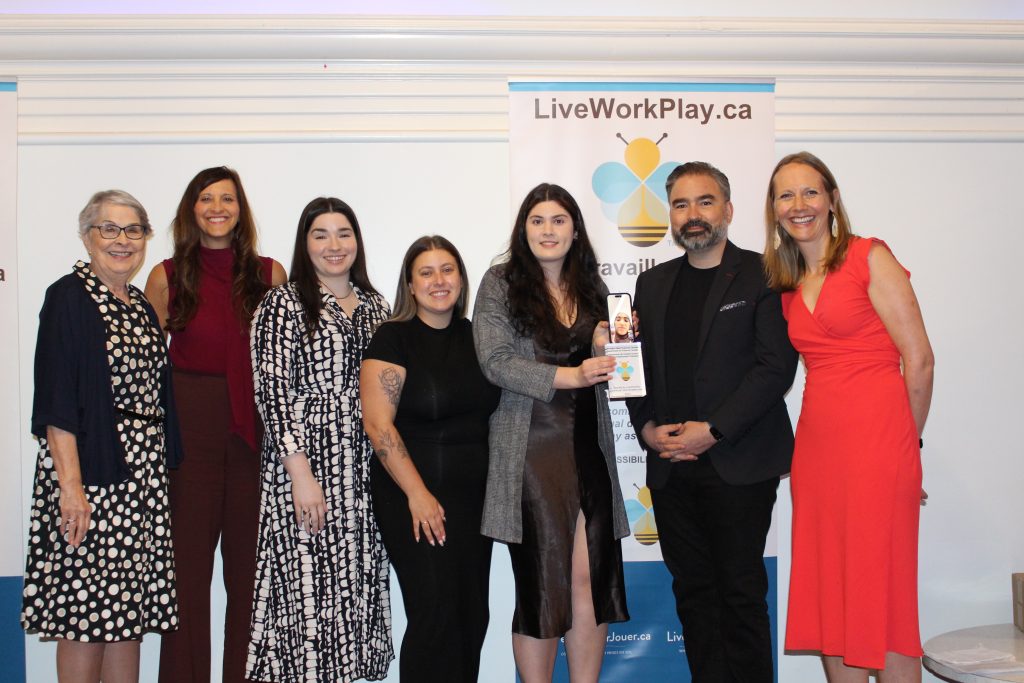 ---
COMMUNITY AMBASSADOR AWARD: DANIEL PINSONNEAULT
The crowd was still warming up but we had a partial standing ovation for this ceremony honouring Daniel Pinsonneault with this year's Community Ambassador Award! What an amazing year of public advocacy by Daniel! FACEBOOK | INSTAGRAM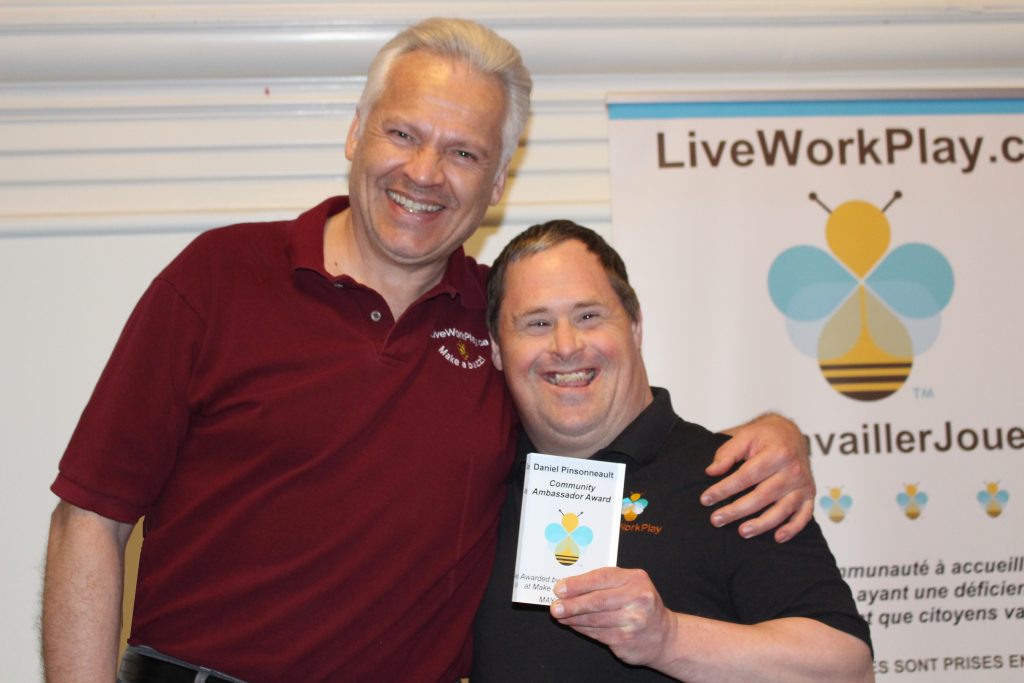 ---
CHAMPION OF INCLUSION LEGACY AWARD: DON GALLANT
An elborate plot to surprise Don Gallant with this award went awry when flights from Newfoundland failed to connect, but he was well appreciated in absentia and we hope he enjoys the video! FACEBOOK | INSTAGRAM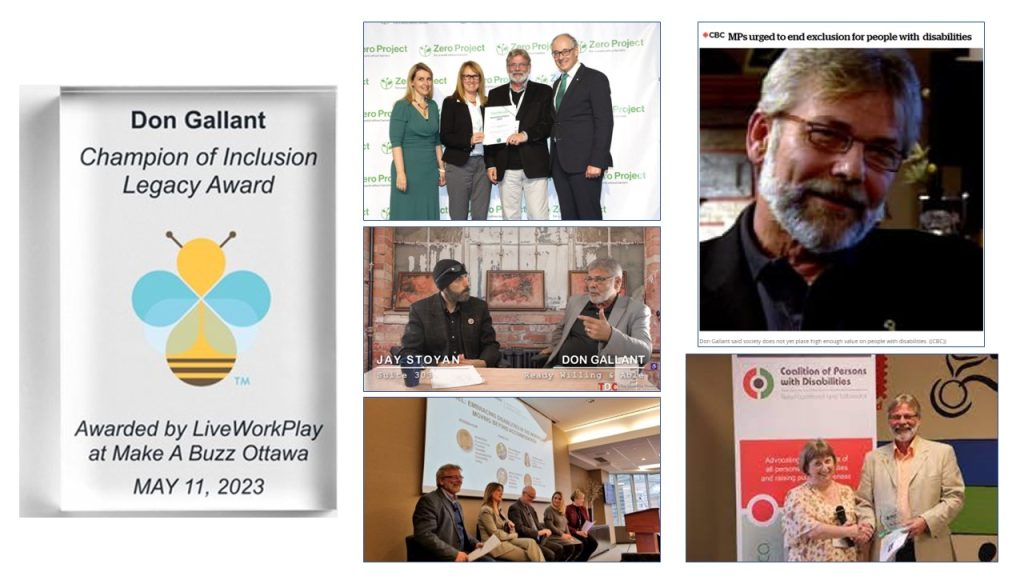 ---
VOLUNTEER MATCH RECOGNITION: GLEN BOESE / CHRIS JONES, JUAN TORRES / TIM SIEBRASSE, MARGARET COUPER / RACHEL WEXLER, CAROLE SHEPPARD / GLEN JUDGE
VOLUNTEER LEADERSHIP AWARD: DEE ANN MARCOUX, BEN SHAYANPOUR
Cheers to volunteers! A fun ceremony honouring four outstanding matches and two Volunteer Leadership Award recipients. FACEBOOK | INSTAGRAM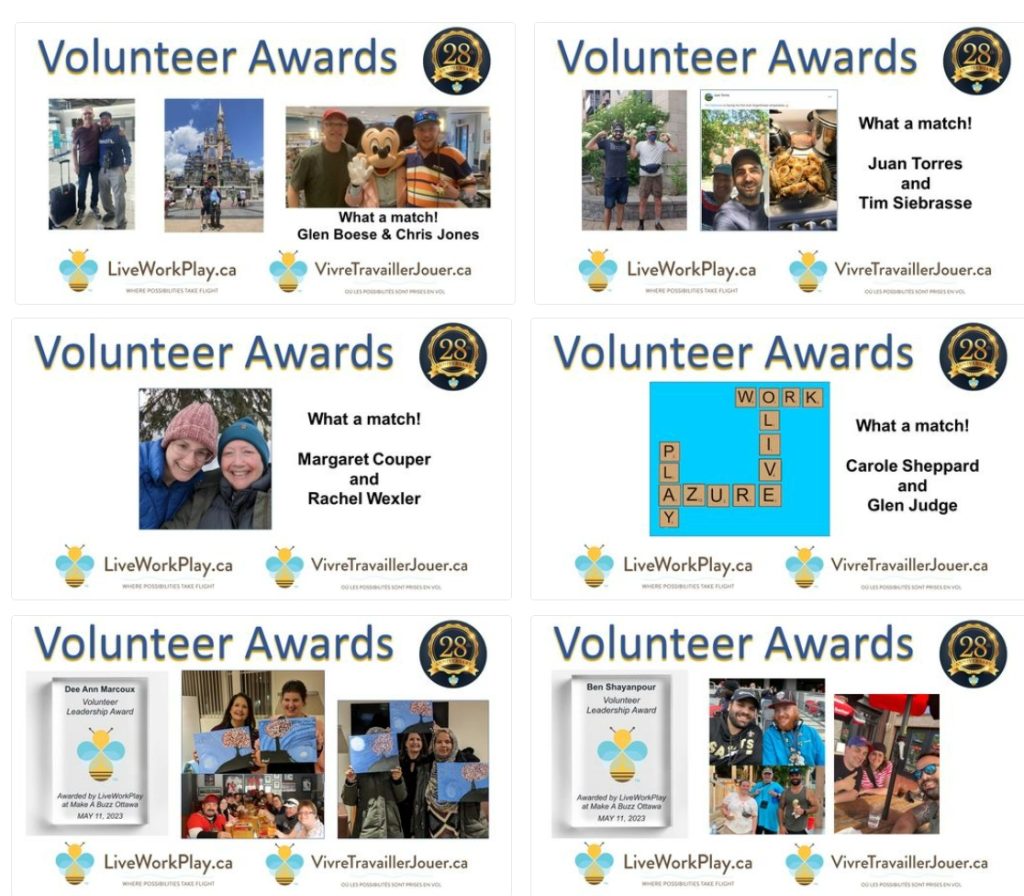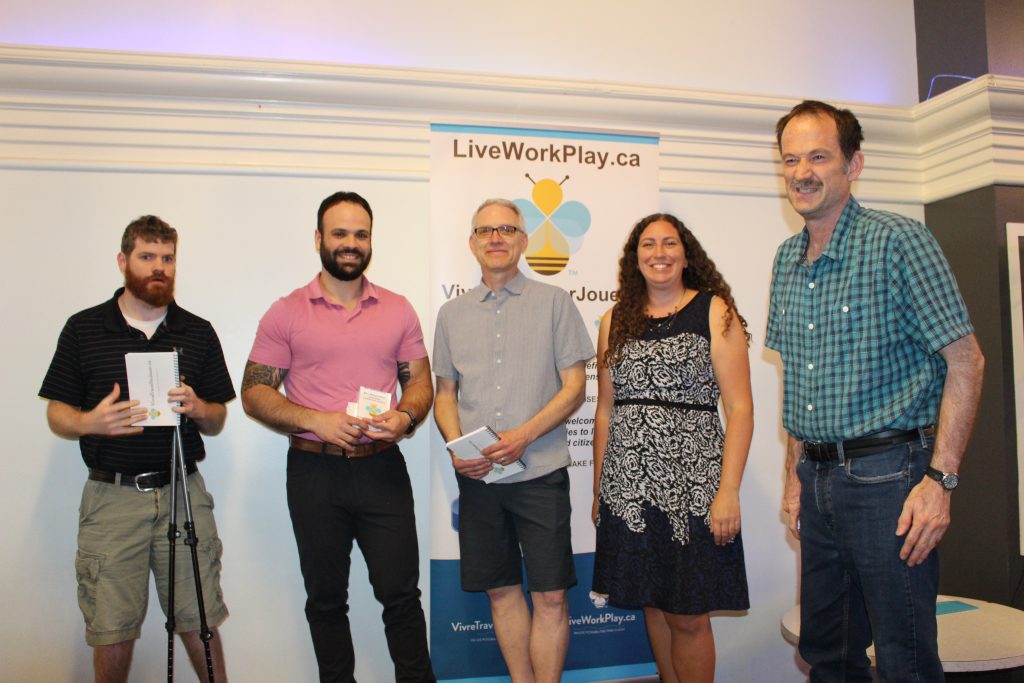 ---
INCLUSIVE EMPLOYER AWARD (private sector): COCONUT LAGOON
One of Ottawa's most beloved restaurants and restauranteurs honoured this evening, Joe Thottungal and Coconut Lagoon! FACEBOOK | INSTAGRAM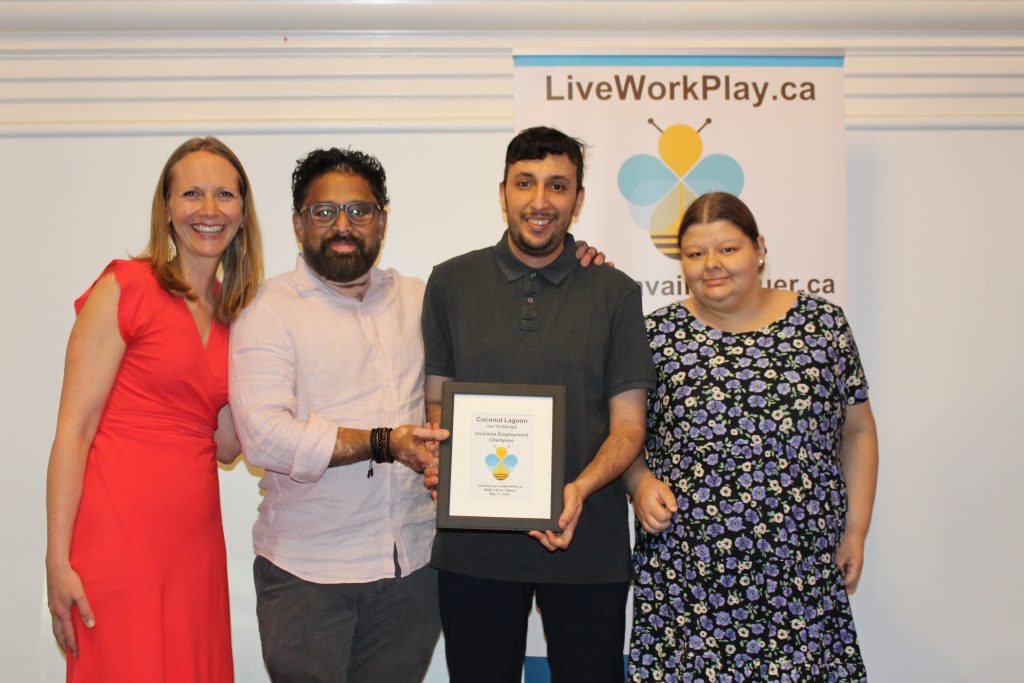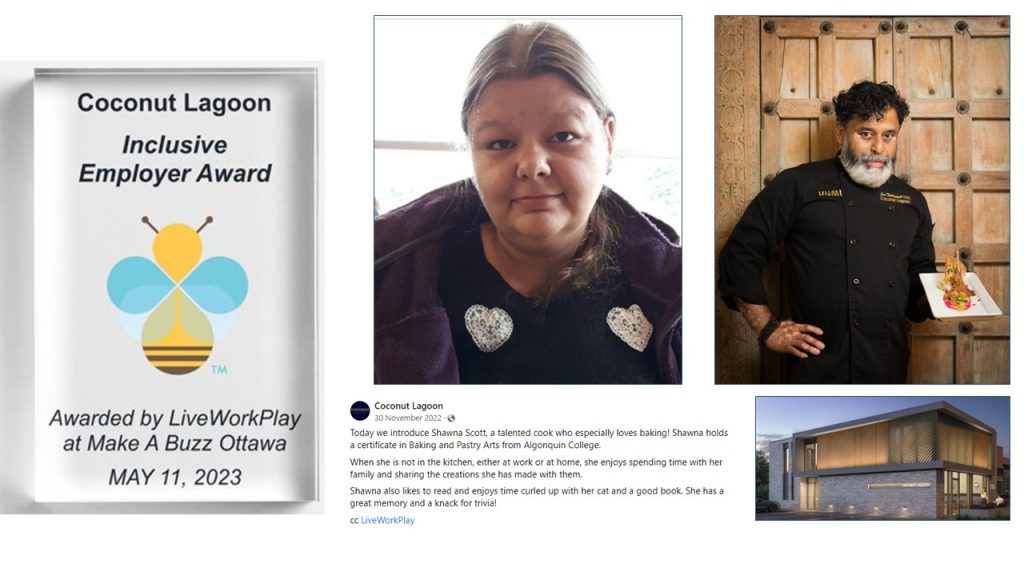 ---
COMMUNITY PARTNER AWARD: READY, WILLING & ABLE (OTTAWA) COMMUNITY LIVING ONTARIO
May is Community Living month and it is the Community Living Ontario 70th anniversary, so what great timing – and much deserved! Ready, Willing and Able (Ottawa area) is a Community Living Ontario initiative with representative Kelsey Ross as our local contact, Kelsey and RWA have become a true partner of LiveWorkPlay in facilitating more than 20 jobs this year! FACEBOOK | INSTAGRAM
---
MY OWN HOME BURSARY: ROBERT MARTINHO, BRENT COHEN
What an amazing tradition, more than $11,000 contributed to support individuals with an intellectual disability who move to a home of their own in the community – we celebrated recipients 56 and 57 – can we make 60 by next year? FACEBOOK | INSTAGRAM
---

---
BELOW ARE THE TEXTS OF THE SPEAKING NOTES IN THE SAME ORDER AS THE VIDEOS AND PHOTOS ABOVE
---
LIVEWORKPLAY MAKE A BUZZ OTTAWA
CELEBRATION OF INCLUSIVE COMMUNITY
ROB MORE GOOD LIFE AWARD – MATT SUTTIE
MAY 11, 2023
PRESTON EVENT CENTRE
As Mike makes his way to the stage I wanted to take a moment to recognize past recipients of this award, which started in 2014 wth Phil Landreville, Caroline Matte, Ashley Lavigne, Tim Siebrasse, Marie Stanfield, Gillian Gillespie, Frances Laube and Martin Couture, and Paul Knoll. And here's Mike to tell us about somebody new!
I'm Rob's dad, Mike More. The Rob More Good Life Award was established to celebrate the life of our son, LiveWorkPlay member Rob More, who died tragically along with five others in the September 18, 2013, bus/train crash.
We continue to celebrate Rob's life, and we also hope to inspire others to pursue a Good Life of their own. Rob loved his home, his neighbourhood, volunteering at the Experimental Farm, and his work at IBM. Rob was a huge sports fan, and this surely would have been one of his favourite LiveWorkPlay events. We know Rob is looking down this evening with a huge smile on his face, seeing the Rob More Good Life Award ceremonial cup being presented here at St. Anthony's.
The Rob More Good Life Award is given each year to an individual who has experienced significant life transitions in pursuit of their own goals and dreams.
We could not be more pleased with how well this year's recipient represents the spirit of this ceremony in honour of Rob.
When his year's honoree got their start in life, doctors told the parents to limit their expectations about what might be possible later in life. Expectations were exceeded, but the doubts continued. As they made their way through high school and wanted to talk about working and living in the community, some of the teachers were not so sure and warned that these things might not be possible.
When this young person got their first summer job with some help from LiveWorkPlay, they worked so hard that the employer did their best to keep them on after the job was over.
This is a familiar story in the life of this individual, and the pattern has repeated. At the end of last year, they got a seasonal job offer at one of Ottawa's top private sector employers, and through hard work, turned that into a permanent position.
On the home front, it might have taken a little longer than everyone wanted, but our honoree moved to their own apartment four years ago.
Perhaps not the greatest time during the pandemic, but he received support from LiveWorkPlay for cooking lessons over videoconferencing and has become a very capable home chef.
Last but certainly not least, our recipient loves local sports teams. This is not a necessity for receiving this award, but we know that Rob looks down with extra approval whenever this is the case.
This year's award recipient will be photographed with the ceremonial cup, and they will also receive a permanent commemorative award to take home with them.
I am sure you've all figured it out his identity by now, so please join us in welcoming this year's Rob More Good Life Award honoree, Matthew Suttie! Matt, come on up here!
LIVEWORKPLAY MAKE A BUZZ OTTAWA
CELEBRATION OF INCLUSIVE COMMUNITY
INCLUSIVE EMPLOYER AWARD (Public Sector) – FINANCE CANADA
MAY 11, 2023
PRESTON EVENT CENTRE
The Inclusive Employment Champion award for public sector employers goes to a government department or agency that not only hires one or more persons, but also promotes the hiring of workers with intellectual disabilities or autism, to internal and external audiences. In the past this award has gone to Health Canada, the Canadian Food Inspection Agency, the Treasury Board of Canada Secretariat, the Public Service Commission of Canada, the Canadian Food Inspection Agency, and Innovation, Science and Economic Development Canada. The Ontario provincial government and Ottawa municipal government are also eligible for this award, but first, they'll have to start doing some hiring! Here to introduce this year's recipient, once again from the federal government of Canada, is the volunteer chair of the LiveWorkPlay Federal Employment Strategy Group, Mary Gusella.
Thank you so much Anna. Good evening to all. Prior to my retirement after 36 years in the Public Service, I experienced firsthand the many challenges of successful partnerships with community-based organizations. So, I would like to point out that this award celebrates not only the recipients but also celebrates the very spirit of collaboration.
Most important, of course, we are celebrating the very human result of a great job for a person with an intellectual disability as well as a team of public servants who have improved their own workplace and taken a leadership role in sharing the value and importance of diversity, equity, inclusion, and accessibility with their peers in other departments, as well as across the country, and in fact around the world.
I say around the world because I am pleased to announce that in less than a month from now, LiveWorkPlay will be sharing the story of its partnership with the Public Service of Canada in a presentation at the World Conference on Supported Employment in Vancouver on June 8.
One of the factors in deciding this year's recipient of the Inclusive Employment award is their participation in a video project to create a free curriculum for family members, staff, and students who are interested in learning more about inclusive employment. The project, developed by the Family Network for Supported Employment and made available via the LifeCourse Online learning platform, resulted in a series of compelling videos, 50% of which are focused on one employee and their departmental team. We have a collage of clips from these videos, and I'd like to play it for you now to help tell the story and reveal this year's award recipient.
As you all saw for yourselves, this year's recipient of the public sector Inclusive Employment Champion award is the team from Finance Canada – please come to the stage!
Congratulations to Talia Bodnarchuk, Kelsi Belanger, Jessica Laniel, Daniel Carleton, Michelle Kovacevic and Nadine Ghadie!
LIVEWORKPLAY MAKE A BUZZ OTTAWA
CELEBRATION OF INCLUSIVE COMMUNITY
COMMUNITY AMBASSADOR AWARD – DANIEL PINSONNEAULT
MAY 11, 2023
PRESTON EVENT CENTRE
As the Director of Communications at LiveWorkPlay, it is my honour to present tonight's Community Ambassador Award. This annual award goes to an individual supported by LiveWorkPlay who volunteers their time to support the advocacy work of the organization through the championing of inclusion and highlighting the valuable contributions of people with intellectual disabilities and autistic persons to the community.
Some recent recipients include Tim Siebrasse, Tara Pahwa, Phil Landreville, Janet Balcome, and Cooper Gage. Before we get to this year's recipient, over the past 3 years I've been co-hosting The LiveWorkPlay News, the most popular initiative we've ever come up with at the LiveWorkPlay marketing department. The success of those broadcasts would not be possible without all the amazing co-hosts, so I want to recognize Ryan Nevitt, Janet Balcome, Ryan McBride, Stephen MacPhee, Jennifer Harris, Brent Manuel, and Caroline Matte, if I forgot anyone, I apologize and I owe you a beverage. You were amazing to work with, thank you so much for helping us all get through the pandemic with incredible online news anchor performances.
Tonight's recipient of the Ambassador Award has been a contributor on The LiveWorkPlay News and made frequent appearances in the many different LiveWorkPlay News countdowns, appearing twice, for two different stories, in the top 22 of 2022.
Locally, he took part in a CBC Ottawa radio feature, and internationally, he was the star of a video feature by the BBC, and just to top it off, it happens to be his 9th anniversary at Costco, Merivale and Hunt Club!
We all know who it is, so please come to the stage to receive your award, Daniel Pinsonneault!
LIVEWORKPLAY MAKE A BUZZ OTTAWA
CELEBRATION OF INCLUSIVE COMMUNITY
CHAMPION OF INCLUSION LEGACY AWARD – DON GALLANT
MAY 11, 2023
PRESTON EVENT CENTRE
Our next award recipient is a longtime champion and changemaker in building inclusive communities for people with intellectual disabilities and their families. Their disability rights work has covered a range of issues such as deinstitutionalization, individualized support, family leadership, inclusive and affordable housing, employment, childcare services, and building inclusive communities. We call this a Legacy award, because it goes to people with decades of work and volunteerism in the sector, including past recipients like Al Condeluci, David Weremy, and Mark Wafer.
Tonight's recipient worked for a provincial government in the 80s and 90s, helping to move individuals with disabilities out of institutional settings and into homes of their own in the community.
After their time in government, our inclusion champion moved into the nonprofit sector as a policy consultant and directed a national initiative supporting community inclusion projects that impacted thousands across the country, and an additional project supporting agencies to move away from congregated and segregated residential housing in support of individualized non-institutional housing choices.
Let's cut to the chase and jump to 2014, when this year's honoree became National Director of Ready, Willing and Able, a historic initiative led by Inclusion Canada, Autism Alliance of Canada, and member organizations across the country.
RWA has won awards and received recognition at the local, national, and international levels, and probably most importantly to Don Gallant, has helped facilitate more than 4,000 hires!
Don is also a founding member of the National Joint Task Force on Deinstitutionalization, is stewarding the development of inclusive standards related to employment within the Accessible Canada Act, and honestly folks, this is just a brief sketch of Don's amazing career, advocacy, and activism of tonight's Legacy Inclusion Champion.
Please join me in celebrating Don Gallant and his more than 40 years of dedication to supporting more inclusive communities for all.
LIVEWORKPLAY MAKE A BUZZ OTTAWA
CELEBRATION OF INCLUSIVE COMMUNITY
VOLUNTEER AWARDS
MAY 11, 2023
PRESTON EVENT CENTRE
Congratulations Glen Boese & Chris Jones, Juan Torres & Tim Siebrasse, Margaret Couper & Rachel Wexler, Dee Ann Marcoux, and Ben Shayanpour!
Good evening Make A Buzz Ottawa, my name is Grace Hudson, and I am the Team Lead for Community Supports at LiveWorkPlay. Normally, our People Connector and Volunteer Coordinator Alex Darling would present these awards, but she is on parental leave with her baby Adaline. Her interim replacement Batoul is on holiday, and her replacement Rebecca was very busy organizing the seating plan and other arrangements for tonight, so here I am!
It's always an honour to help recognize our volunteers. Volunteers are vital contributors to the work we do to help the community welcome and include the people we support. This includes one-to-one matches, where we pair one of our members with a community volunteer, based on shared interests, for mutual learning and fun, and quite often, it is the start of a new friendship. To start off the volunteer awards, we are going to celebrate four of these matches. Every match is important and wonderful, and these are just some examples to help highlight what is possible.
First up, Glen Boese & Chris Jones: Glen and Chris met in December 2018. They began their match by volunteering together for Meals on Wheels. Glen and Chris have developed an amazing friendship that is extremely meaningful to both. Glen has such respect for Chris and truly sees his gifts and talents, and Chris feels the same way about Glen. They like to spend their time together all over the city, from interesting walks to hockey games, and the real showstopper, they took a trip to Disney World Together! Let's hear it for Glen and Chris!
Juan Torres and Tim Siebrasse will celebrate their fifth year together in February 2024. It's hard to explain all the adventures they enjoy together, but to describe them as explorers is the word that fits best. In addition to walking anywhere and everywhere together, they also enjoy culinary journeys together, like these delicious empanadas, a first time treat for Tim. In reflecting on their friendship, in their own words, they each describe the other as a reliable positive presence in their lives. Let's hear it for Juan and Tim!
Margaret Couper and Rachel Wexler have reached a huge milestone: 10 years! What a decade of fun, laughter, and valuable friendship. Margaret and Rachel first connected in March of 2013, and they have spent regular time together ever since! They share their hobby of photography and spending time in nature – and they also enjoy sharing a smile with a great selfie!
Carole Sheppard and Glen Judge have been matched since 2012 and they are close to celebrating 11 years! They connected over their love of Scrabble and their love of having a great laugh together. That's eleven years of Glen visiting Carole at her place to have a rousing game of Scrabble! In one of their more competitive matches, with the strategic placement of the word AZURE with a triple on the zed and double on the entire word, Glen scored a 72! Since Glen is not big on selfies, we decided this image would be most suitable. Let's hear it for Carole and Glen!
To finish off our volunteer recognition tonight, we are giving out two Volunteer Leadership awards. Once again, these are just examples that help us explain what is possible as a LiveWorkPlay volunteer.
Dee Ann Marcoux joined our volunteer team in July 2021. She has been a regular Friday night meetup volunteer, and she gets rave reviews from all our members, whatever meetup she joins! Dee Ann has gone above and beyond and never hesitates to lend a hand when needed, she is compassionate and also very creative. Recently, Dee Ann helped us support our partnership with the Multifaith Housing Initiative by joining with LiveWorkPlay staff members to lead and support paint nights at the Haven in Barrhaven! Recently I put out a call for volunteers to join us on Sunday for a photo shoot at Boston Pizza, and she was one of the 16 who answered the call. Let's hear it for Dee Ann!
Last but not least, let's talk about Ben Shayanpour: big or small, he's done it all! After joining the team in August 2020, he got started hosting virtual socials on Zoom, and now he is out and about with Friday night meetups, and also spends time with Matt Suttie and Chris Jones. You might have seen Ben on a Friday night, on zoom or even out in the community with Matt Suttie or Chris Jones, everything from walks to hockey to soccer to a Swedish Heavy Metal show near Montreal! Our members say he is kind and full of energy. Thank you, Ben, for being a part of our team and we couldn't be more grateful to have you as part of our community!
Ben is here tonight, as are Glen Boese, Ben Shayanpour, Matt Suttie, and Tim Siebrasse who were mentioned as part of these awards, so we'd like them to come on stage and accept on behalf of all the recipients.
Thank you so much to all our amazing volunteers who give their time to support matches and Friday Nights. We can't do this work without all of your support.
LIVEWORKPLAY MAKE A BUZZ OTTAWA 🐝 CELEBRATION OF INCLUSIVE COMMUNITY 🐝 INCLUSIVE EMPLOYER AWARD (Private Sector) – COCONUT LAGOON 🐝 MAY 11, 2023 🐝 PRESTON EVENT CENTRE
Good evening, everyone, I'm Anna Nelson, LiveWorkPlay's Director of Employment Supports, what an honour it is to be presenting this year's private sector Inclusive Employer Award! This award has a long history that includes employers like The Parliament Cleaning Group, current employer of Cooper Gage; Déménagement Outaouais Moving, current employer of Gillian Gillespie; and Dow Honda, current employer of Frances Laube!
The business and the owner we are honouring this year is already very well known in the Ottawa community and beyond. They are known for their philanthropy, donating time and goods to the community, and for their passion as a community builder that brings people together.
Last summer we started working with this incredible business and by the end of August, two of the jobseekers we support were hired and busy on the job! Over the past 9 months we have seen these two recent hires not only take on jobs that they love, but also be fully embraced and welcomed by their new colleagues. It is a place where they are truly be seen as individuals with unique talents to be appreciated and nurtured, where they take on new skills and duties, and grow in their roles.
The owner of this wonderful restaurant is a local success who serves as a shining example of what it is to be an inclusive employer and has been recognized with awards such as the Ottawa Business Journal and Ottawa Board of Trade "Newsmaker of the Year".
But it is also the entire team, and their inclusive workplace environment that we recognize tonight. They celebrate each other, within the workplace, but also publicly, by featuring the skills and talents of their employees on their own social media as well as through the mainstream media. Together they are true champions of an inclusive workplace culture.
Please join me in congratulating the employer of two wonderful workers, Shawna Scott and Deloshana Ganeshavidel, let's welcome Joe Thottungal and the team from Coconut Lagoon to the stage, the recipients of this year's private sector LiveWorkPlay Inclusive Employer Award!
LIVEWORKPLAY MAKE A BUZZ OTTAWA 🐝 CELEBRATION OF INCLUSIVE COMMUNITY 🐝 COMMUNITY PARTNER AWARD – READY, WILLING & ABLE (OTTAWA) COMMUNITY LIVING ONTARIO 🐝 MAY 11, 2023 🐝 PRESTON EVENT CENTRE
This next award doesn't have to be about employment, but this year it is. Last year we caught up after a few years off by giving out three Community Partner Awards, one each to CharityAccounts, Pooran Law, and David Chalmers Nexus Human Capital. Those awards had to do mainly with support that impacted the entire organization, from the front line to the board, much of it related to dealing with the pandemic, but all three of those partnerships have continued into 2023 and we expect that to be the case for many years to come.
This year's Community Partner Award goes to an outstanding new partnership that is best known to the employment team, but has benefited many of our members, even if they don't realize it. Much of it is magic behind the scenes. To tell us all about it, Jen Broad and Laura Lobay honoured this year's recipients by video, which we'll play for you now.
Good evening Make A Buzz Ottawa!
My name is Laura Lobay and I am here this evening with my colleague Jennifer Broad. Jen and I have the pleasure of serving as Inclusion Specialists on the employment team at LiveWorkPlay with a focus on private sector employment. In the winter of 2022, we were delighted to hear that Ready, Willing and Able, in partnership with Community Living Ontario, both long-time partner organizations of LiveWorkPlay, were assigning a member of the Ontario team to work right here in the Ottawa area.
Ready, Willing and Able, also known as RWA, is a national initiative active in 20 communities across Canada. RWA is designed to increase the labour force participation of people with an intellectual disability as well as those on the autism spectrum. In February 2022, our team was able to meet Kelsey Ross, the incoming local Employment Outreach Coordinator, and started to develop a plan on how we would work together to create more employment opportunities in the Ottawa area. Here is Jen to tell you more.
Thank you, Laura. Although Kelsey and her colleagues from Community Living Ontario are not able to attend Make a Buzz in person this year as they are currently at their annual staff retreat, that's not going to stop us from announcing that they are the 2023 recipients of the LiveWorkPlay Community Partner Award!
Working in partnership with Kelsey over the past year we have seen not only an increase in the contacts we have made with businesses that were introduced to LiveWorkPlay for the first time, but we are also excited to say that people got hired by wonderful, inclusive, and passionate employers. Kelsey, we really appreciate your initiative, your "get it done" attitude, your collaboration, and your dedication. We are so thankful to have you as an active partner in this journey. We look forward to seeing where the next year and beyond will take us!
My name is Kelsey Ross, and I am the Ottawa representative for the Ready, Willing and Able initiative based at Community Living Ontario.
On behalf of Ready, Willing and Able and Community Living Ontario. I wanted to say thank you to LiveWorkPlay for honouring us with this Community Partner Award.
Your team has supported the RWA model in Ottawa and incorporated it into your own employment supports delivery, and for the past year and a half, together we have proven that this type of partnership and this type of model work and works very well.
I want to share just one exciting detail about the nature of our shared success with private sector employers in Ottawa: we have had 22 hires since March 2022! This is a huge accomplishment. The employers that have been connected through RWA range from national partners such as Loblaws and Costco, as well as more local employers such as the Coconut Lagoon and Whalesbone restaurants. Together we have proven the value of our partnership, and most importantly, to supporting quality matches of employees and employers. We look forward to continuing the partnership for years to come.
LIVEWORKPLAY MAKE A BUZZ OTTAWA 🐝 CELEBRATION OF INCLUSIVE COMMUNITY 🐝 MY OWN HOME BURSARY AWARDS – ROBERT MARTINHO, BRENT COHEN 🐝 MAY 11, 2023 🐝 PRESTON EVENT CENTRE
The My Own Home bursary started in 2007, following the LiveWorkPlay On My Own Together projects at the Carleton University summer residences. In addition to providing financial assistance this award recognizes an important milestone for individuals who move to a home of their own in the community. Over the past 16 years, over $11,000 in bursaries have gone to the 55 recipients to date. We're going to add to that total tonight! Here to reveal this year's recipients, is one of the sponsors of the award, Barry Wellar.
I wish my wife Marjorie and I could be there in person at Make A Buzz Ottawa 2023 to announce the My Own Home bursaries in person, but the good news for this year's recipients, we were able to deliver the cash ahead of time. It's our pleasure to provide $200 each to recipients 56 & 57 of the LiveWorkPlay My Own Home award, congratulations Robert Martinho and Brent Cohen!