United Way Minute featuring Graham Armstrong and Levy TD Place Now Airing on CTV Ottawa!
---
---
QUESTIONS AND ANSWERS!
This seems to be a public service announcement (PSA) for United Way East Ontario, but it is LiveWorkPlay that provided the employment supports to help Graham get the job at Levy TD Place?
Yes. UWEO provided the production crew, filmed and produced the video, and has the partnership with CTV Ottawa for airing this United Way Minute. LiveWorkPlay was offered the opportunity to participate and accepted. Levy TD Place and Graham himself also made their own decision to participate.
Was Graham's Great Grandfather really a big star with the Ottawa Rough Riders?
YES! Edward "Eddie" Kramer Emerson (March 11, 1892 – January 27, 1970) was a star football player in the Canadian Football League for twenty-two seasons for the Ottawa Rough Riders. Fondly known as the "Iron Man" of football, Emerson led his team to two Grey Cup wins, in 1925 and 1926. After retiring from the field, Emerson stayed with the Rough Riders as president of the football club from 1947-1951. He was inducted into the Canadian Football Hall of Fame in 1963 and the Canada's Sports Hall of Fame in 1975.

The PSA asks for donations to UWEO and not LiveWorkPlay?
Yes. We are partners with UWEO in a few different ways. We have benefited from many different UWEO grants over the past decade, whether they are Community Fund Investments or time-limited opportunities such as COVID-19 Investments. These grants are made possible by UWEO donors and their donations. We are also founding members of the Employment Accessibility Resource Network (EARN) which is convened by United Way East Ontario as part of their focus area From Poverty to Possibility. Lastly, individual donors can also direct all or part of their contributions from the United Way Government of Canada Workplace Charitable Campaign (GCWCC) directly to LiveWorkPlay using the option at the bottom of the GCWCC donation form. If you want to donate to LiveWorkPlay, please go for it! We find that UWEO provides profile to LiveWorkPlay, and LiveWorkPlay provides profile to UWEO, and both organizations do great things for the Ottawa community.
What did LiveWorkPlay have to do with Graham getting the job?
LiveWorkPlay is an Employment Ontario service provider specialzing in matching jobseekers with intellectual disabilities and autisitc persons to inclusive employers in the public and private sector in the Ottawa area.
Recruitment, onboarding, and training are typically the biggest barriers to the employment of people with intellectual disabilities and autistic persons. Ideally, we seek to develop a partnership with employers where we can understand their business needs and match them to jobseekers that we know are a good fit for available positions. This saves the employer the time and expense of finding suitable candidates, and we can also help them with any needed customizations for an individual's onboarding and training. We typically help with some of the initial paperwork issues and spend time on site learning about the position and the workplace environment, so that we can anticipate any accomododations or adaptations and build a plan that is in place well before the first day of work.
In the case of Levy TD Place, they were very proactive in helping set up a successful partnership with LiveWorkPlay. This included an orientation event where candidates (including Graham) could learn about the available opportunities and characteristics of the workplace before applying. LiveWorkplay Employment Specialists attended along with potential candidates so it was easy to work together on applying for work and identifying everything from the type of job to hours of work.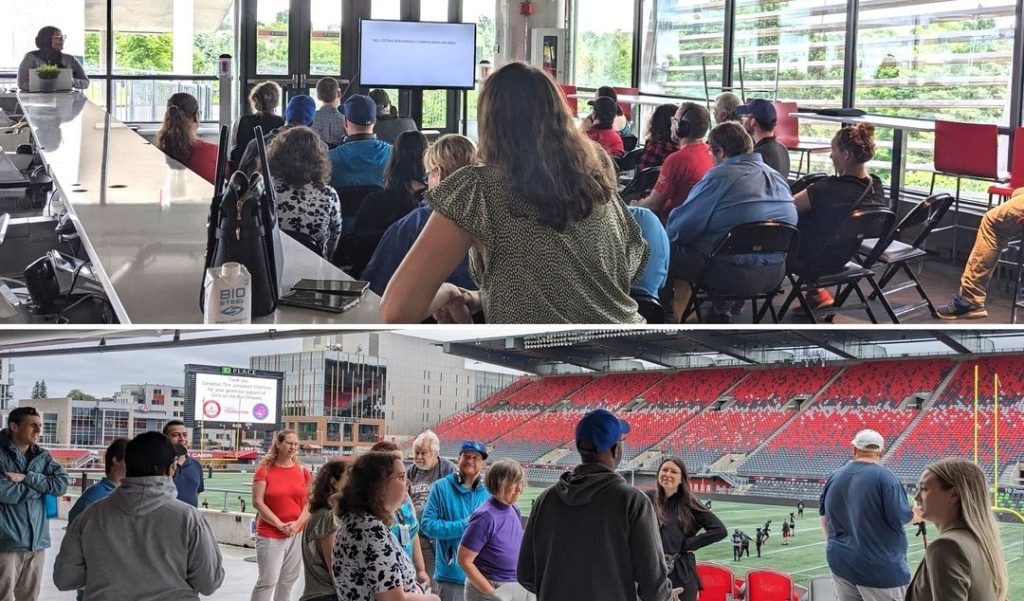 Why did you choose Graham and his job at Levy TD Place for the video?
We have had a lot of public coverage about our partnership with about 40 federal public service departments for government jobs, and we have become well known for that grounbreaking work. However, just like the rest of the labour market, it is not the right fit for everyone, and we have hundreds of private sector employment partners! Graham is a great example: his job at Levy is just what he was looking for at this time in his life. He likes the hours, the flexibility, and the opportunity to work with a team in a highly social environment with the bonus of being involved with sporting events.