Case Study: "Making employment within the Public Service of Canada accessible and successful for people with intellectual disabilities and autistic persons"
---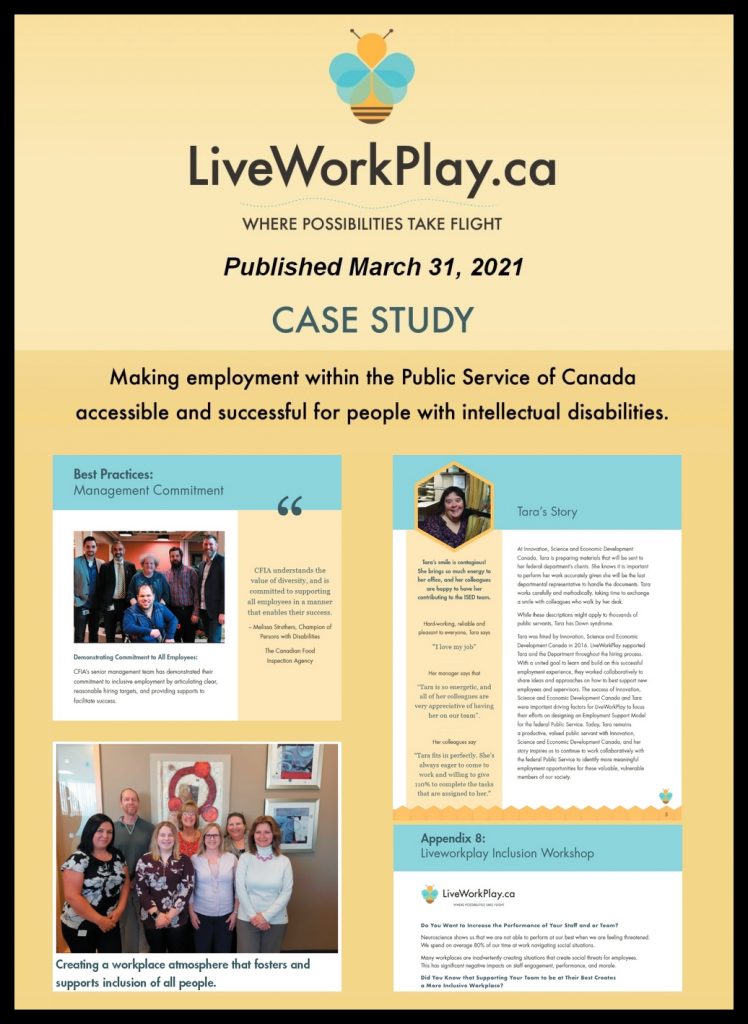 Clicking here or on the image above will open a PDF copy of the case study. You may also access a plain text version in English or French. Cliquez ici pour une version française en texte seulement.
---
UPDATE: APRIL 22, 2021
As described in the report on page 25, a key challenge is to ensure that the Employment Supports Model that LiveWorkPlay has implemented in partnership with the federal public service in the National Capital Region can be replicated consistently in other regions across Canada. The approach to partnering with other service providers to deliver employment outcomes in other parts of the country has now been formalized as the Canadian Network Supporting Inclusive Public Service Employment, with six founding members, and future expansion talks already underway.
FOREWORD
This case study was initially slated for publication in April 2020, but given the dramatic changes brought on by the COVID-19 pandemic, the decision was made to postpone the report. A year later, we have incorporated some reflections on 2020-2021, and are now ready to share the story of a unique and historical Inclusive Employment Initiative that began in 2015.
The initial phases of this journey focused on understanding the barriers to employment that existed for people living with intellectual disabilities and/or autism when they tried to enter the Public Service of Canada. Over those first three years, the foundational, grassroots work with individual managers and their teams was channeled into the design and testing of an Employment Supports Model and its underlying tools. The resulting model offered a step-by-step approach tailored specifically for Public Service managers and supervisors to address barriers, identify opportunities and benefits, and build appropriate supports to maximize the potential for employee, supervisor, and organizational success.
In March 2018, a Challenge to Deputy Ministers issued by the President of the Public Service Commission and the Chief Human Resources Officer of the Treasury Board, created awareness and impetus for the hiring and retention of 100 people with intellectual disabilities and/or autism in meaningful "real work"* positions. The Employment Initiative demonstrated that a targeted recruitment program can deliver employment results for adults with intellectual disabilities and/or autism who can be successfully matched, hired, and perform effectively in public service positions.
This case study describes the core elements of the Employment Initiative and provides examples of best practices, key achievements, and learnings that pertain to the unique nature of the Public Service, and some conclusions intended to be helpful in moving forward Public Service accessibility. The Treasury Board Secretariat and the Public Service Commission are currently undertaking many initiatives to increase accessibility and LiveWorkPlay looks forward to working with these and indeed all Departments and Agencies, to achieve the vision of the Public Service Accessibility Strategy: namely to be "the most accessible and inclusive Public Service in the world".
Daniel Spagnolo, Volunteer Chair of the LiveWorkPlay Board of Directors
Keenan Wellar and Julie Kingstone, Co-Leaders, LiveWorkPlay
Jen Soucy, LiveWorkPlay Director of Employer Partnerships and the Federal Employment Strategy Group (FESG)
Mary Gusella, Volunteer Chair of the Federal Employment Strategy Group (FESG)
PLEASE CLICK HERE TO OPEN A PDF AND CONTINUE READING THE REPORT.
You may also access a plain text version in English or French. Cliquez ici pour une version française en texte seulement.
* The phrases "real work" and "real work for real pay" are used as part of ongoing national and international movements in support of inclusive employment and is foundational to Article 27 of the United Nations Convention on the Rights of Persons with Disabilities of which Canada is a signatory. For more information see pages 3 and 15 of Michael J. Prince "Inclusive Employment for Canadians with Disabilities" http://irpp.org/wp-content/uploads/2016/08/study-no60.pdf
The story of the LiveWorkPlay partnership with the federal public service of Canada from multiple perspectives: